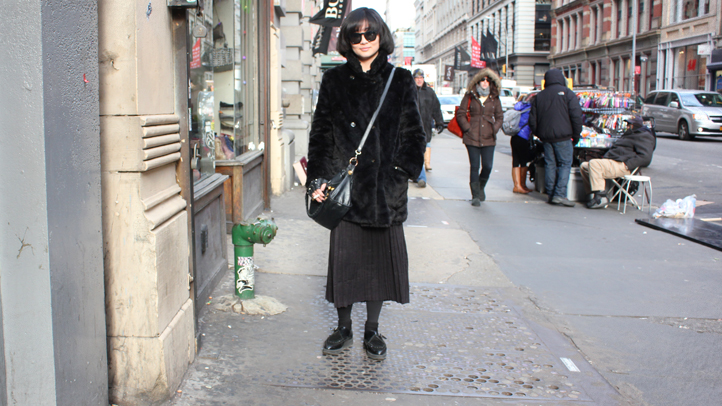 We used to think punk rock accessories and goth-inspired looks were simply too tricky to pull off -- one studded bracelet too many, and you may as well work at Hot Topic.
But after meeting the super-stylish Gy-su Kim, we're thoroughly convinced that creepers, spikes and studs have a deserved place outside the mall. Indeed, this Interview intern even managed to give her rock 'n' roll look a glamorous twist by adding a fluffy Uniqlo overcoat.
Hometown: "Claremont, California."
Today I'm Wearing: "A Uniqlo coat, spikey fingerless gloves from St. Marks, creepers from Trash & Vaudeville, a vintage skirt, and a Balenciaga bag."
En Route: "To my internship at Interview."
If I Could Sit Front Row at Any Fashion Show, it Would Be: "McQueen."
My Signature Style in Middle School: "I wore all of my brothers hand-me-downs, and he was a skater. So I had a lot of sassy T-shirts and baggy everything."
The Best Thing I Bought This Year: "Lots of candles. Beautiful, lovely candles."