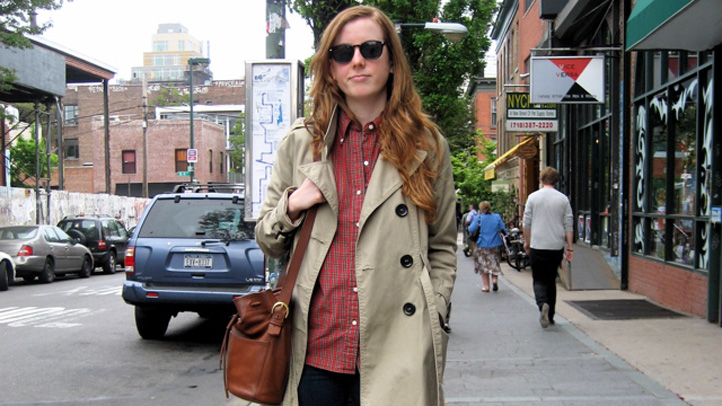 Sometimes the best outfits appear where you least expect them. We spotted Erin Murphy's blazing red hair and classic khaki trench as she waited for the bus on Bedford Avenue. Worried her transport would arrive before we got to snap her ensemble, we scurried from a nearby cafe to make an introduction just in the nick of time.
A recent graduate of Pratt's Library and Information Sciences program, Erin's spring ensemble exuded school-girl chic without any of the 'Miriam the Librarian' stuffiness.
A crisp belted trench—an H&M score—lent her shrunken Brooks Brother's shirt an air of sophistication, while simple skinny jeans from Madewell kept the outfit casual. The perfect vintage Coach bucket bag and Dolce Vita desert booties completed the look.
An avid Ten Foot Single shopper—the behemoth Williamsburg vintage store tucked beneath the Brooklyn Queens Expressway—Erin cites Francois Hardy and Anna Karina as sources of style inspiration. "I like to keep it simple, clean, and classic," she explains. Simple, yes—but hardly ordinary.