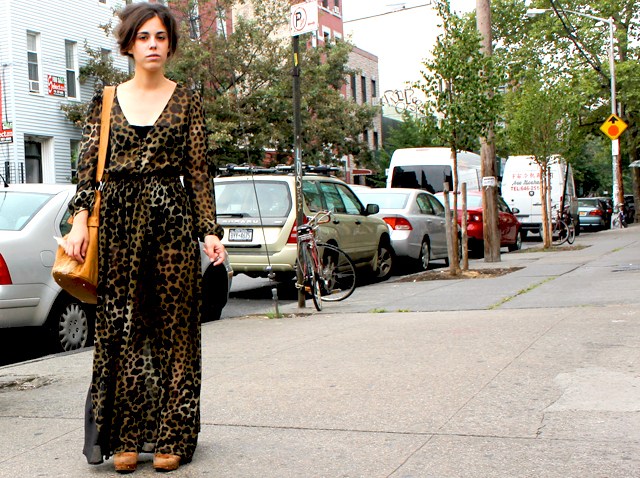 Beehives have been somewhat on the fashion mind lately, what with Jean Paul Gaultier's steely gray granny buns and Suno's sky-high hives for Fall 2011.
That said, we never really expected to see one on the sidewalk, least of all on a drizzly afternoon en route to the "G" train. Nonetheless, Andrea Marco emerged from beneath her umbrella in a sweeping leopard-print maxi dress and, yes, one bodacious beehive.
Hometown: "Madrid, Spain."
Occupation: "Studying at Columbia for the summer."
On My Way: "To have lunch with my mom at The Meatball Shop."
Today I'm Wearing: "H&M dress, Topshop boots, African calf-skin satchel."
My Fashion Motto: "Wear anything and everything."
My Signature Style in Middle School: "I had a whole surfer-girl thing going on."
If I Could Sit Front Row at Any Fashion Show, It Would Be: "Chanel or Christian Dior."
The Best Thing I Bought in the Last Year: "A bright red dress from Dolce & Gabbana."