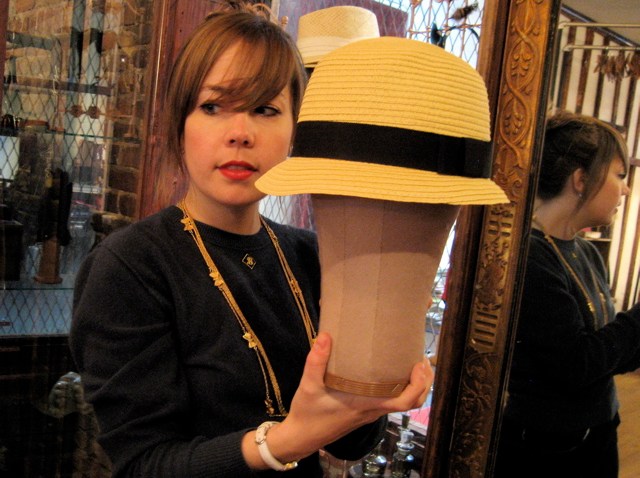 As spring shipments trickle into our favorite stores, we've been catching up with a few stylish staff members to see what tops their warm-weather wishlists. After all, nobody who spends that much time with beautiful merchandise can ever have poor taste. This afternoon, we chatted with one majorly chic shop-keep, Brooke Backman of In God We Trust, to talk Brooklyn-made jewelry, comfy clogs and perfect LBDs.
1) Boat Neck Mini-Dress Dona Monroe, $295
Upon our arrival at 70 Greenpoint Ave., Brooke rushed from her seat behind the beat-up antique counter to show us two sleek black dresses designed by friend, Dona Monroe. "These are spring and summer essentials because of the lightweight silk," says Brooke. "They're perfect for day or night." A slim, fuss-free silhouette with a boat neck and detachable belt would be a closet staple for a decade--Monroe is definitley a designer to watch.
2) Look of London Heart-Print Tights, $28
"I am obsessed with heart tights at the moment, and these are the cutest I've seen." We couldn't agree more--what better way than a funky pair of retro stockings to transition from winter to spring?
3) Seychelles' Clogs, $110
These squishy platform clogs by Seychelles look high-fashion, but retail for a fraction of Chanel's notorious sky-high version. "I am a huge fan of clogs, and these are affordable and comfortable," says Brooke.
4) Solid Brass Heart Cuff by IGWT, $100
Brooke's final spring pick, a solid brass bracelet embellished with a heart and a bow, required little explanation: "I love bows and hearts!" This is the sort of subtle yet highly-detailed piece we see ourselves reaching for every day--in fact, we plan on returning soon to give it a test drive around our wrist!
Visit In God We Trust at 70 Greenpoint Avenue, between Franklin and West. Or give Brooke a call at 718.398.3545 for ordering information.