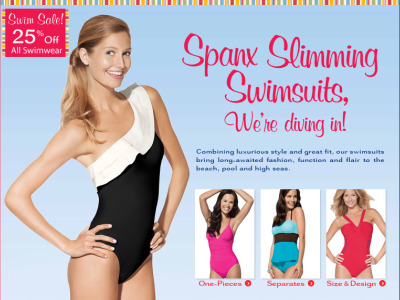 Just in time for summer, Spanx comes out with its no-brainer next collection: swimwear.
Having successfully won over the guys, the little girdles that could have expanded their magic to the kinds of swimwear you'd expect: One-piece, tankini and bikini styles engineered to flatten, smooth, suck in and boost where respectively needed. There's a plethora of chic maillots, practical and simultaneously cute brief styles for the two-piece styles and strategically cut tankini tops to round out the selection.
This does make us curious about the future of Spanx, however, since the pieces weren't initially designed, well, to be seen, and bathing suits are highly visible wear. Regardless, for those interested in buying the slimming swimwear, the wares are currently 25 percent off on the Spanx website.