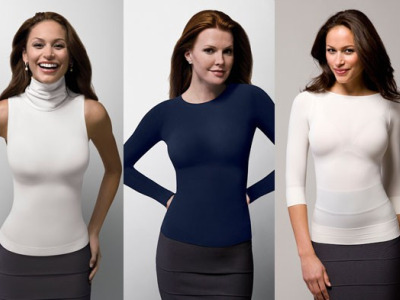 Good news! Women are no longer relegated to yanking their Spanx up to their necks. The new Spanx On Top and In Control line of shapewear shirts is shipping in June. They can be layered or worn alone for a smooth and slim upper half.
The saucily titled line will retail between $68 and $118 and encompasses nine styles in neutral colors like black, white and navy blue (with more colors on the docket for fall, according to Stylelist), including a three-quarter-sleeve bateau, turtlenecks, crewnecks, V-necks, tanks, and tees.
The newest addition to the Spanx family, which launched in 2000 with footless tights, continues the brand's spot at the forefront of the shapewear revolution, bringing us ever closer to a full body suit distributing the pudge exactly - and only - where we need it.