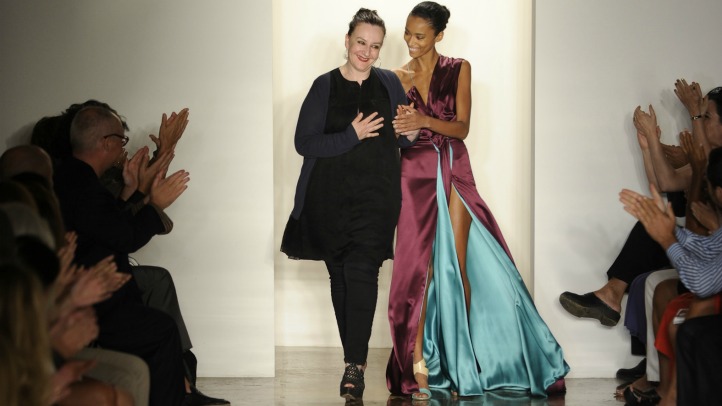 The Business Insiders is a series that explores the business side of fashion for up-and-coming designers, talking with a range of insiders on what it takes to build and sustain a company.

Sophie Theallet worked under masters like Azzedine Alaïa and Jean Paul Gaultier in Paris before decamping to New York City to start her own label, which launched in 2007. Since then, she has racked up acclaim -- including the CFDA/Vogue Fashion Fund Award, which she won in 2009 -- and has dressed everyone from Jessica Alba to Michelle Obama. Theallet spoke with us about the challenges of running a small fashion company with only four employees and why just any investor in her brand won't do.
When you started your label in 2007, what did it take to get it off the ground initially?
I started with a pattern-maker and a seamstress. I found a factory [in New York City] with the qualities required of me. I borrowed some money from friends and family. I bought a sewing machine, a cutting table, fabric. That was it. I was really helped by friends when I first started. I found my seamstress through friends, someone who was working at another label. That's also how I found my factory.
Why did you choose to manufacture your clothing in New York City?
There is something so unique about factories in the garment district. It's so important to keep the garment district alive. And the great thing for me, is that I can go to the factory directly. Quality is very important to me, and if something isn't the way that we want it when it comes the studio, it's much easier for us to get it corrected [because our factory is in New York]. It's very different from working in Paris. There are no factories in Paris. You work in an atelier and if you want something made, you have to go to Italy. In New York, everything you need is within two-blocks. It's fantastic.
Where do you see the Sophie Theallet brand going?
Right now, I am at the beginning. But I would love to be a lifestyle brand. The good thing about working for Alaïa for 10 years is that I learned to have savoir faire. It takes a lot of money and it's a big challenge to build a lifestyle brand right now. I would need the right partner, with a lot of integrity. Someone who really understands my brand.
Are you actively looking for an investor?
Yes, but it really has to be the right person.
What are you biggest expenses?
Fabric and operations costs. The product is the most important thing to me.
What's it like having your husband, Steven Francoeur, as your business partner?
Obviously, it's not always easy to have your partner with you at work, but he really understood me, and the brand, from the start. We share a complimentary unique vision. I didn't even ask him [to be my business partner]. He was working on his own -- modeling, in fashion, as a guitar player. And he just continued to get more and more involved.
How many people work for you?
Four people -- including my husband. And then we have the factory that we work with and the [outside] public relations team.
What misconceptions do you think people have about what it takes to make it as a designer?
Some designers these days believe they have to be rock stars. I believe in the product -- that's what the client buys. The issue is to endure and to do everything to stay alive as a business. It's really all about dedication to your work.
What makes a woman buy something from you, opposed to someone else?
When a woman tries on one of my dresses, I want them to feel happy immediately, and to go to a mirror and feel beautiful and sensual. From the woman wearing my Gramercy Park Hotel uniform [which debuts in January] to the movie star. I don't want my woman to become another woman in my clothes, I just want her to feel beautiful as herself.
Was there a point that you realized your label was going to make it?
When I won the CFDA/Vogue Fashion Fund Award, that was really like a little American Dream for me. But there hasn't really been one moment. You just have to think that you're going to make it. I'm going to continue to believe in what I'm doing and the things that I love. Every day there is something new to be excited about, a new challenge, and every day I need to keep the company alive, and make a new dress. The work process never stops.
What advice do you have for others thinking of launching their own fashion line?
Take the time to learn the craft -- and it takes time. To make it in fashion, you have to be strong, and not envious. You have to offer something unique that you can't find from another brand.