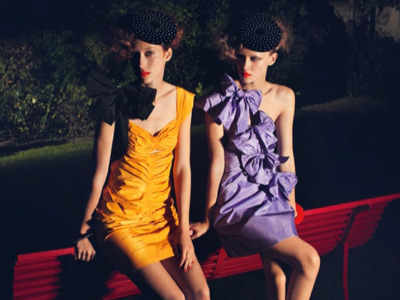 Sonia Rykiel - "Queen of Knits SInce 1968" - will show in the U.S. for the first time this week, when she brings resort and pre-spring collections to New York City. The designer's lower-priced capsule collection of cotton separates, whose prices range between roughly $155-$235, will also be on display at the showroom.
On her exuberant entree to the fashion scene in Paris in 1968, Women's Wear Daily immediately coronated Rykiel as "Queen of Knits", and daughter Nathalie Rykiel, now president of the house, will use the tagline "Queen of Knits Since 1968" for the newest ad campaign.
The new marketing initiatives for the brand revolve around the U.S. as it tries to boost its presence in the market, under the newly appointed director of international sales, Caroline Dumiel, who's got extensive experience here in the States. Last year, Rykiel collaborated on a mass-market collection for H&M.
The duds are on display by showroom appointment Tuesday-Saturday, and will drop at Bloomingdale's and on Net-a-Porter (plus a slew of boutiques nationwide) in October and then again in December.