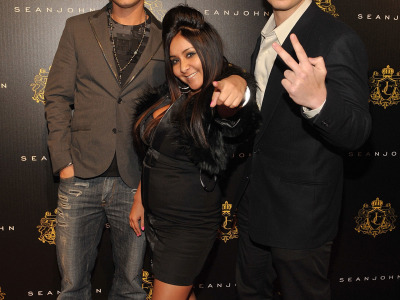 The self-proclaimed "Princess of Poughkeepsie" and the bizarrest of the bizarre stars of Jersey Shore, Snooki / Snickers, got a make-UNDER on Inside Edition. Meaning, under Marchesa and non-Kabuki hair she's still Snooki.
We got an interesting glimpse (below) of the Snooks with a slick ponytail and pantsuit, in soft (read: normal person) makeup and an elegant Marchesa gown, but a spade's a spade. The bedazzled bronze nugget twirled with her tush out in the Marchesa (we're not sure Georgina's pleased about this association) and made it clear that pantsuits were not her style. We'd have to agree, when is that homegirl ever going to step into a setting that requires such garb?
A valiant effort to get all Eliza Doolittle on the guidette, but it's hardly where the money's at for Snooki these days.