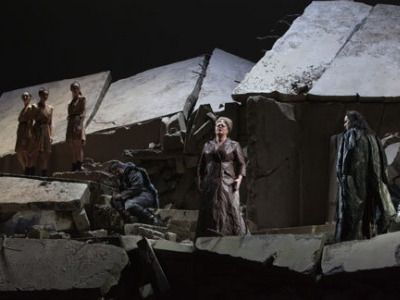 Through a somewhat amusing chain of moles and gossip, we learn that Prada's Attila costumes comprise leather, fur and distressed denim, reminiscent of the designer's past runway collections.
The highly protected dress rehearsal couldn't trick the blogosphere, and we got snippets of the barbaric landscape, with Prada outfitting the grimy castmembers in fringed leather, rumpled tees, studs, furs and distressed finishes.
The Verdi opera makes its Metropolitan Opera debut, bringing to the singing stage a pivotal historical period marking the fall of the Roman Empire and the general squalor of life on the barren battlefields. It is with fascinating irony that the production enlisted such elite design talent from Miuccia Prada, and Pritzker Prize-winning architects Jacques Herzog, and Pierre de Meuron on the set.