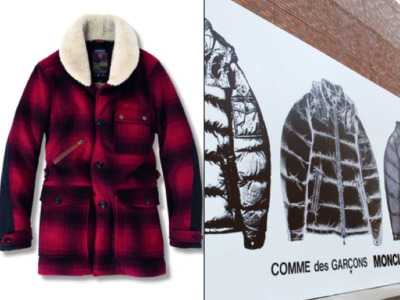 Six more weeks of winter in most places calls for some tundra-worthy fashion news. Moncler 365, a forward-thinking collabo in conjunction with Commes des Garcons is being unveiled in Tokyo, while Woolrich rings in a strong past with a 180th anniversary capsule collection.
Moncler has always been posh and in recent seasons, has added some funky-hip edge to that aesthetic. Having tapped Pharrell Williams to work on some designs, the brand will now be unveiling a series of pieces under Moncler 365 which are only thus far described as being black and co-branded. The collaboration is the latest in a series of remixed lines between Commes and Converse, Speedo and Hennes & Mauritz; while Moncler has been focused on Japan with recent projects including designers Chitose Abe and Hiroki Nakamura.
Woolrich, on the other side of the spectrum, will launch a capsule collection this fall under its high-end John Rich & Bros line, to celebrate the coatmaker's 180th anniversary. Inspired by such design milestones as the discovery of a roll of fabric carrying a handwritten note by J.W. Rich and dated between 1800-1900, the collection will include a parka, field jacket, T-shirt, vest, blazer, bag and car blanket. The pieces will be produced in limited editions of 180, retailing between $98-$995.