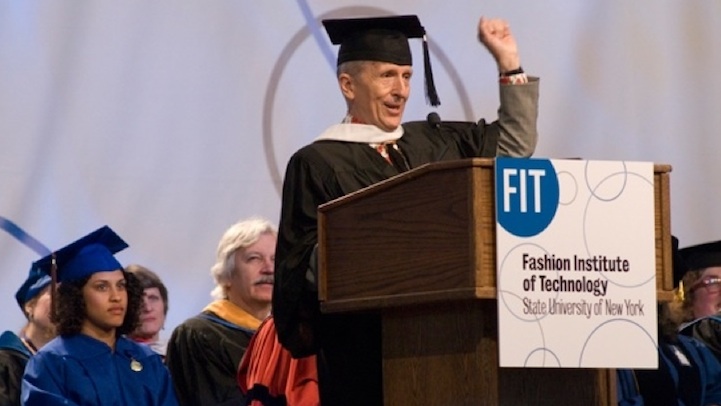 The Fashion Institute of Technology honored Barneys creative ambassador and beloved industry personality Simon Doonan with its Lifetime Achievement Award at yesterday's commencement ceremony, and Doonan took the opportunity to dole out some choice advice for the graduating class.
Doonan took to the stage and doled out the following tips for fledgling designers, which were then posted on Barneys' blog, The Windows:
Don't try to start a fashion company using your Aunt Mitzi's pension fund.

Make sure you have at least one drag queen in your life.

When you spray on perfume, do it the Valentino way: Spray a cloud of cologne into the air and then walk into it. Never "splosh" it directly on your skin.

Always leave a tip for the hotel maid: Good karma for you, cash for her.

Always keep a jar of pickles in the refrigerator. You never know when Aunt Mitzi (or Snookie) might drop in.

Get a job in a store. After a quarter of a century at Barneys, I can tell you that retail has given me an incredible, enriching, stimulating, gorgeous career. There's never a dull moment. Retail, retail, retail.
Considering all the talented graduates entering the fashion fray from FIT, Parsons, Pratt, and elsewhere, it's good that they're getting advice both practical and playful.