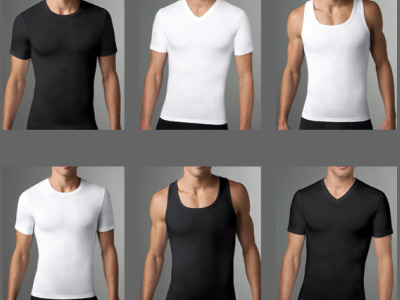 In the spirit of gender equality, Spanx and a slew of others created shapewear for men and almost six months later later, sales are booming and imitations abound.
Despite their hesitation in granting women the same privileges to, say, the vote, higher education, equal wages, etc., men have been granted access to women's magical world of shapewear, and they're loving it. (Though, we're not sure we could find one to flaunt it.)
The Times reports that Neiman Marcus, until this month the exclusive retailer of Spanx for men, has experienced tremendously strong sales in the category. Freshpair.com, Nordstrom and Bloomingdale's have hopped on board to carry the Spanx line, along with other male foundation garments from Equmen, Sculptees, and more.
For men, the underthings enhance pecs and tone up an aging belly among other, ahem, masculinity-enhancing silhouettes. Just because women are more vocal about their loyalty to their tummy-toners and push-ups, doesn't mean the slimming skivvies are girly. Industry peeps have learned to surround the male side of the market with a gender-appopriate vernacular. The claims include the benefits of toning and easing back pain.
Now the the conundrum of de-robing spans the gender gap, but we're all for a level playing field.
All this equality makes us wonder what's next. Do dudes realize that heels make you taller?