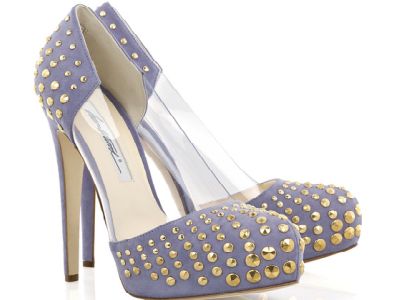 More than a decade since the TV show began, the second movie version, Sex and the City 2, proves its selling power as Carrie's $800 lilac Brian Atwood Loca pumps sell out everywhere.
Full disclosure-slash-spoiler alert: Sex and the City 2, plot-wise, was....not good.
Regardless, our primary use for the franchise remains to be the fashion, and the movie sequel did not disappoint when it came to Pat Fields' wardrobe adventures (which took the girls to the deserts of Abu Dhabi).
Carrie's Atwood studded light purple pumps with five-inch heel sold out on Net-a-Porter and Intermix, according to WWD. Carrie Bradshaw wannabees cleared out Net-aPorter's stock last week, before the movie was even released to the public. Are these deep wallet, shoe lovers New Yorkers who spied the shoes during filming, industry insiders and VIPs who had advance access to the film's premiere, or avid blog followers who've panting after the brass-studded beauties for months now? We're guessing everyone played a part.
Say or think what you want about the film and the relevance of the franchise, but if one is to go by the shoes, it's clear SATC is still in demand.