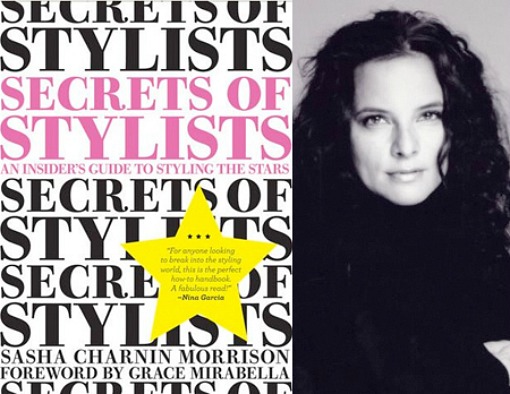 Us Weekly fashion director, Sasha Charnin Morrison, has been creating knockout red carpet looks and styling magazine editorials for over 25 years, during which time she's watched the business change from a true behind-the-scenes occupation to the subject of multiple reality TV shows, most notably "The Rachel Zoe Project." Her new book, Secrets of Stylists: An Insider's Guide to Styling the Stars, is intended less as an amalgam of personal tips and tricks than a guide to breaking into the business and building a successful styling career. We caught up with Morrison to hear how she got where she is today, and what wisdom she'd offer young hopefuls.

Who is "Secrets of Stylists" written for?
It's really for people who have decided that they they want this as a career. A lot of us who are doing it kinda fell into it, it wasn't the plan, it wasn't something we went to college for, but there are people now who are mesmerized by what they see on television and in the magazines, blogs, that want to do styling as an actual career. And when my publisher and I were trying to figure out if this was something that was tapped, it really wasn't. There wasn't any kind of guideline or help for how to get into this -- who do you work for, what do you need to know. Do you have to have a degree in it? No, you know you can really come from any walk of life and wake up in the morning and decide you want to be a star stylist. But there really wasn't anything to go to.
Nowadays, nobody needs to explain how or why they became a stylist, but you've been in the game since before the word 'stylist' really existed. How did you break into the business, and how has it changed in the last twenty years?
I was in show business, I loved it, I grew up in it, I had a different type of approach to it. You have to love it and sacrifice everything. It has to be the number one career in your life, much like fashion, and I felt that fashion was more what I had that feeling about than show business. I had an audition for Starlight Express and I said, "If I don't get this, then I'll get out of the business, and the day after Starlight -- if I don't die from the roller skate audition -- I'll do my Vanity Fair interview." And I did the Vanity Fair interview and I got it and decided that was pretty much what I wanted to do. My stepmother was the creative director of Vogue, and I met her when I was about 13. I walked into their fashion closet and thought: "Whatever THIS is, this is for me."

What was the first high-profile celebrity job you worked on?
The funny thing about my life is that my mother's in show business, my father's in show business, they were in the original company for West Side Story together. My dad directed Annie, so I've always been around celebrities, and I always kind of, being around it all the time, I wasn't so fazed or nervous about it necessarily. But I think my first working job that I was kind of freaked out on was with Diana Ross at Vanity Fair. It was a very specific edit, you know. I think there were like a thousand gowns that were sent in ... I had to get in sheets, and they couldn't be any sheets. I couldn't go to Macy's. I kind of didn't know what I was doing, I think we had a whole bunch of sheets and none of them were up to par, and I didn't get it, how important the Egyptian cotton was and the level of celebrity we were dealing with ... I mean, I knew she was Miss Ross, but I didn't realize that a certain expensive quality of sheet was really going to make the photo. So I was a little on edge about that one, and making sure that I pleased everyone with my sheet selection, but I think that was one of the first traumatizing moments when I realized that whatever I had called in was not necessarily going to work. And when you find out that something's not going to work for your editor, you might as well just pack it all in and go hang yourself, because that's how passionate the business is—seriously. There will be times where the person you're trying to please the most will throw their hands up in the air and say
I simply can't do this shoot, because I don't have the proper whatever," you know the sheets or something ... I think that was like the first big moment when I realized the importance of listening and also just really being on top of everything when you're in that moment.

Do you think there was a single important job, or shoot you styled that helped you transition from assisting to working solo?

I think I was wildly ambitious when I started out and thought that I knew everything. I just feel like I had a little bit of an upper hand because I had kind of peripheral training from my stepmother through the years about fashion, so after my job at Vanity Fair I felt I could do something more advanced, because a lot of these jobs are highly independent, you take on a lot of stuff very early ... The show business thing was so important for me because it gave me confidence that, you know, when you fail you just have to pick up and move on. You don't have to wallow in it. And it took me a little bit of time to figure that out but you learn as you go, and you can't sit comfortably in any position for a long time because you need to move forward, you need to train, you need to do all these things, so I felt like my next job needed to be, if not styling, then getting into the getting of the clothes and putting the ideas together, and that's what happened at Mirabella ... It was like nine months of really hard, intense, amazing work. You're starting from nothing, just from an idea on a piece of paper, and it turns into something magical. It was pretty amazing, and I learned very quickly how not to do everything.


What kind of impact do you think shows like Rachel Zoe's have had on the styling world?

I think that it has shown that there is more to the life of being the person behind the scenes. I interviewed a lot of people [for the book], and there are a huge majority of stylists who stay behind the scenes because they don't want to upstage their clients. They want to enjoy their pictures and build a career based on a look and they want to feel happy and satisfied about that. I think in Rachel's case, you know, she's wildly talented. So sometimes when you have so much to offer you need to brand yourself, and she had the opportunity to do both, so she could show a very glamorous, fabulous, edited world of what styling is, what goes on. She's glamorous -- she's definitely got her own tone, her own pace ... Even in her drama of what goes on, the reality is even more dramatic.

What advice might you give to a young aspiring stylist?
It's very hard to tell a young person to listen. And I understand, because I was a young person myself once. I understand that you're ambitious, you want to put your foot out there, you think you can be a star overnight based on what you see on television, but it's really, really important to put in the years and train. You need to hook yourself up with situations that -- the worst situations are usually your best, so that as you progress in your life you understand why something didn't work out right and you can better yourself. I think that you really have to learn from people that you're working with and not inject what you think always is the right, smart word of the buzzword of the moment, and just really take it in, and take all of your training and move forward. And you gotta put a few good years into assisting. The overnight thing is really a lot of crap, because the thing is, with celebrity styling, you need to know what you're doing. You can't just say, 'Rick Owens, or Marc Jacobs is fabulous.' You have to know why. And why? Because they're amazing tailors, and fashion is revolutionary and daring. You really need to know things, you can't just spew out words. And that's a huge part of listening. You really are on your own. You have to set a course for yourself.

What's the best piece of style advice you ever got?
Oh, that fit is probably the most important thing ever. When you look at a great look on the red carpet the tailoring is so important. If it's not tailored correctly, then the magazines and blogs will jump on that celebrity, they will not stop, until it has been beaten to a pulp. That look will never be forgotten, ever. Fit is key. And that's why it's very important to know tailoring and hire a tailor. I didn't realize that a lot of stylists don't do tailoring, they just hire a tailor. And everything is fit to the celebrity. Magazines, totally different story, because you're creating a picture. So you have a girl and she's laying down on the couch and you just take pins and clamps and whatever, and just tape everything, and make it look like it fits. Totally different thing. For personal shopping and wardrobe styling, tailoring is very important. You need to know where that skirt should hit, where the sleeves of a jacket should go, where the shoulder should hang, how deep the 'V' should be, what's appropriate, what's not appropriate. It's so important. Those are always the tips that everybody wants to talk about. The hemline length, all of these things. So that's probably the most important, besides listening and learning, the tailoring is so important. And you can tell when something fits badly. But you can bypass that by really paying attention, taking a course, going to FIT, Parsons, whatever it is, finding out how to properly fit something. And knowing about those incredible companies like Spanx that literally take somebody one to two sizes down. Those things are unbelievable, and everyone in Hollywood really applauds them.