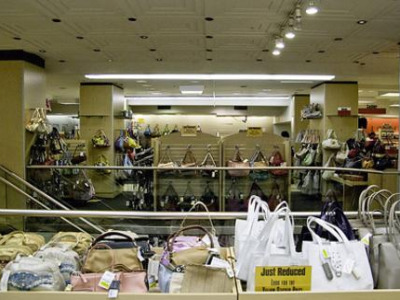 A recent report claims the city's beloved discount retailer may be on shaky financial ground, causing some to fear that it -- like Filene's Basement before them -- may have to close some outposts. Frankly, if The New York Post is right in calling it a "crisis," the women of the city are probably going to get more than a little anxious.
According to the Post's report, incoming inventory is on hold as Loehmann's struggles to come up with the cash to stay afloat. The beloved bargain trove has suffered great losses in recent years, with the proliferation of luxury chain outlets (read: Barneys) being cited as the primary cause. According to the Post's sources, the retailer even missed a recent interest payment on the chain's debt -- never a good sign to be sure, but still also unconfirmed by any official source. Of course, sources like Racked have been quick to compare Loehmann's situation to that of Filene's Basement, which recently closed its Chelsea outpost.
We're holding out for more information straight from the source, but in the meantime, we'll likely do our part in helping the chain stay afloat by see if any of that Marc by Marc Jacobs stash is still there.