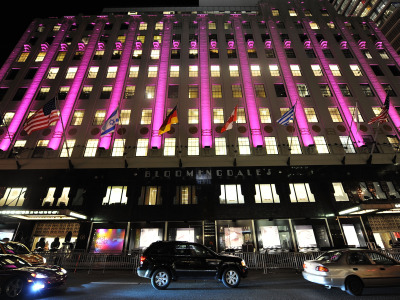 We hope it's true: WWD is reporting that Bloomingdale's is scoping out various massive retail spaces in order to add outlets to its already legion array of department stores.
Bloomingdale's has not commented on the matter, but according to a few slightly vague, real estate-based sources, the department store is this close to a deal with Simon Property Group to place 20,000-30,000-square-foot discount centers in either of their Simon Mills or Prime Outlets properties sprinkled across the country.
Although not confirmed, it'd make a lot of sense for Bloomie's to go discount -- second to e-commerce, it's the best-performing sector of the retail industry, with just miniscule declines in sales since 2007. Saks Fifth Avenue and Neiman Marcus have reported healthy profits from their respective off-price ventures, Off 5th and Last Call, and Nordstrom Rack will be opening its first location in Manhattan this Spring. Lord & Taylor will also be opening an outlet in the mecca of Malls, Elizabeth, NJ next month. So, why not, Bloomingdales?
Between ever-subsiding fears that outlet arms damage the brand of the original store and this little, um, recession we've got beating the retail industry to a pulp, we're thinking it's only a matter of time before Bloomie's joins the deep-discounts bandwagon.