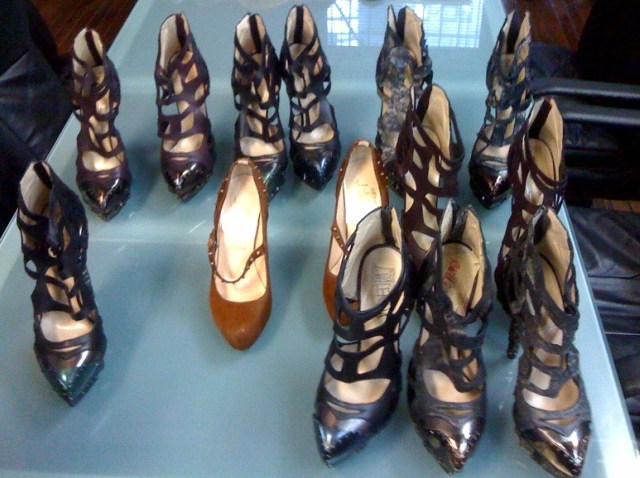 The wares at Rodarte's RSVP-only sample sale in midtown run quite a range -- from some seriously affordable skirts under $400 and "Radarte" tees for $120 to collection pieces in the thousands.
On the "deals" end of the spectrum, there are tissue-thin lacey tanks and past-season skirts (some metallic, some sequin) running about $100-$400 (perfectly reasonable, given the label), and we even spotted two black biker jackets for $500. There is also a table stacked with the brand's much-adored line of t-shirts and hoodies for Opening Ceremony with the phrase "Radarte" or "J'Aime Rodarte" on the front for $80 or $120, respectively. (Alas, the sizing is mostly extra-small or extra-large.)
Then on the other hand, there are the unbelievably luxurious collection pieces for which Rodarte has become famous (and which are, even at a sample sale, out of the reach of most shoppers): $1500 knitwear, $2,000 leather jackets (the ones with "marbled detailing"), and a $1500 collection top from Fall 2009 featuring an elaborate patchwork of materials like plaid. The spiky Kirkwood heels are all arranged on a table, and are, alas, all $2,000.