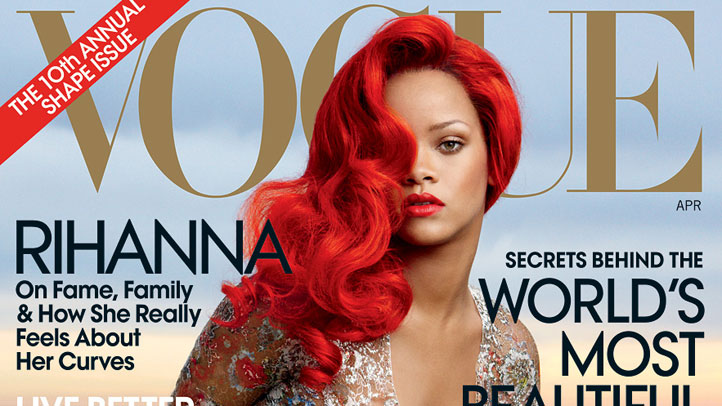 It seemed only a matter of time before pop's reigning It-girl when it comes to style made the cover of Vogue, especially on the heels of Gaga's cover. While Gaga may be more perceieved as more of an artiste when it comes to fashion, Rihanna is the star that many real women seem most eager to emulate.
For the magazine's April issue, the star was photographed by Annie Leibovitz vamping in a sheer floral Chanel dress, and talked to Jonathan Van Meter about her role in the upcoming blockbuster "Battleship," as well as that fiery hair, which, according to Vogue, now even has a name: "Rihanna red."
In the profile, Rihanna discusses the origins of her now famous sense of style:
"When I was fourteen and first started going out, I always wanted to be the opposite of everyone else," she says. "So I would go to the club in a polo T-shirt and pants and sneakers and a hat on backward, just so I would not be dressed like other girls. And I got desperate for things that weren't available in Barbados. I would cut things out of magazines. I was obsessed with creating a visual with clothing, and the way things are combined."
Now, however, Rihanna tells Vogue that she's much more interested in "taking a risk" and yet still keeping it within the bounds of her own personal style: "I have to make it me. I think that's the thrill in fashion."