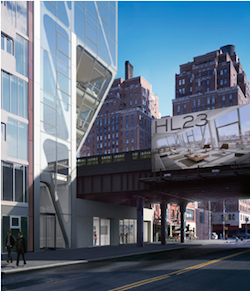 Designers Richard Chai, Simon Spurr, Waris Ahluwalia, Heather Huey and Siki Im will partner with architects selected in an Architizer.com design competition on pop-up concept shops opening over the next 10 weeks outside the HL23 luxury high-rise over the High Line.
The design-focused social-networking site matched architects and fashion designers on the stores, the first of which is Spurr's, designed by the firm Collective and opening on September 9. Every two weeks, the space installation will change hands. Huey and Urban A&O are in the pipeline; the rest are still being paired.
Spurr told WWD that initiative was a win-win. Indeed, the benefits are two-fold. Designers get the opportunity to test-drive ideas for a permanent retail space, while architects earn themselves a portfolio credit (in what we think is a unique and exciting way).
The series of pop-ups provide another opportunity for frequent trips to the High Line, and just in time for Fashion Week.