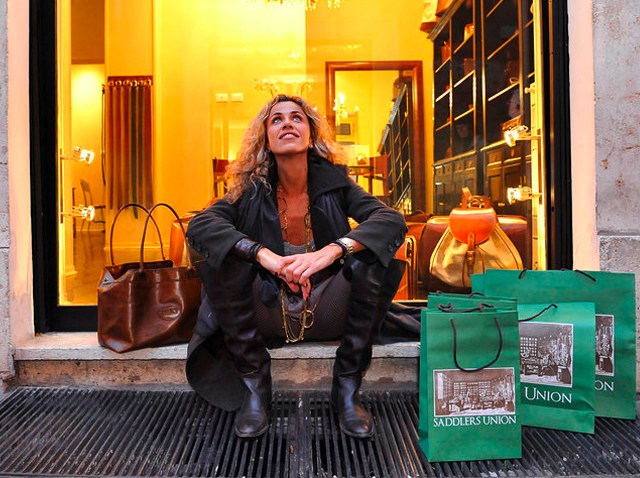 Everybody loves a comeback story. Heritage leather accessories brand Saddlers Union was founded by five leather craftsmen on Via Condotti in Rome in 1957. The label developed a cult following -- Jack Lemmon, Virna Lisi and Jacqueline Kennedy were all clients (Jackie was known for sporting the Saddlers Union bucket bag). But by 2004, the rising rents on Via Condotti, Rome's equivalent of New York's Fifth Avenue, forced the label to close shop.
Enter Micaela Calabresi Marconi, who has worked in PR for Giorgio Armani and Emilio Pucci and was running her own corporate events company. "I grew up with Saddlers Union," Marconi says. "My family used to be clients." After discovering the store had closed, Marconi went on a mission to bring Saddlers Union back to life.
"I found one of the founding artisans, who was living in the suburbs of Rome. He was making a few items out of his garage. I went and saw him three or four times and he made some items for me. I already had my professional life settled, but I felt compelled to tell him, why don't we reopen Saddlers?"
It wasn't easy getting the brand off the ground a second time around. The artisan, Angelo Zaza, wasn't interested in the project at the start. "Initially he [Zaza] said no. He didn't want to work. He's in his 60s. But I knew that I needed him as a partner. And I never take no for an answer. Then I found a place on Via Margutta, where Roman Holiday was shot. The storefront is across the street from where Federico Fellini used to reside. Once he saw the space, he stopped saying no and was on board."
"When I set about re-launching the brand in 2009 it was a difficult time," says Marconi. "It was right in the middle of the economic recession. But I said to myself, Saddlers Union is producing items that are timeless. It's a sartorial experience. It's a taste. It's a smell. It's made in Italy, but really made in Italy -- everything is sewn by hand."
Now Saddlers Union is coming the US. The women's collection is being sold exclusively at Saks Fifth Avenue in New York and online. Marconi thinks the time is right for expansion. "I think we are absolutely up to date. Now we are in an era where all the vintage things are cool. And there is nothing more vintage than Saddlers Union. And I want to keep it that way. Also If you look at the commercials from Louis Vuitton, Gucci or Fendi you see all of the old pictures with all of the old workers. We have that heritage too."
As for Marconi's new life she says, "Now I'm a designer, I'm an interpreter, I'm a marketer. I'm doing everything and I love it."