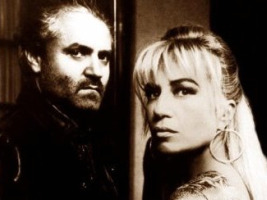 There's nothing like a juicy fashion house tell-all to get you in the mood for the glamour, gossip and (inevitably) scandal that is Fashion Week. Just released in hardcover, we intend to keep a copy of Deborah Ball's debut work, House of Versace: The Untold Story of Genius, Murder, and Survival, tucked into our tote-bags at the tents--you know, in case of pesky 45-minute wait times.
The story begins with Gianni Versace's murder in 1997 before winding back through the childhoods' of Santo, Gianni and Donatella, all the way up to the company's recent corporate reorganization and financial strife (more layoffs were announced last week, and the American press office has closed its doors). We're most curious about Ball's portrait of majority Versace shareholder and general "princepessa," the 23-year-old Allegra Versace Beck, who will determine the fate of her family's legacy. Hey, this stuff is way more sensational than People!
Available from Crowne. Order your copy in time for Fashion Week at Amazon.com.