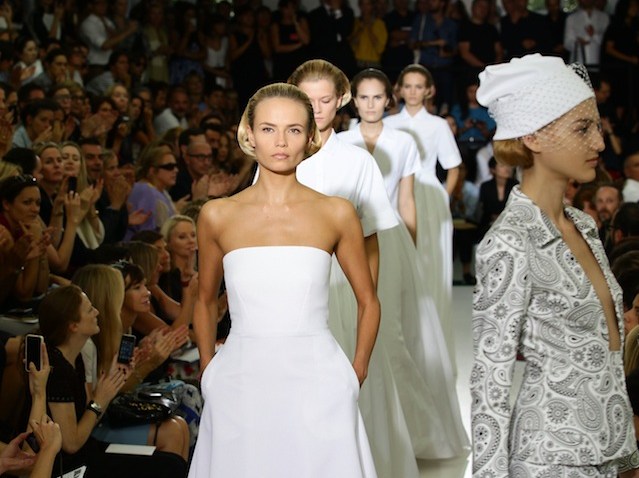 After the fashion industry jumped on a few suggestive remarks made by the Herald Tribune's Suzy Menkes in her review of Raf Simons' show for Jil Sander in Milan on Sunday, YSL released a statement calling the rumors "unfounded", WWD reports.
Menkes began the column for The New York Times with a hypothetical: "If Raf Simons ultimately takes over the helm at Yves Saint Laurent -- as those familiar with the situation in Paris suggest -- the designer will have found a sweet spot for his meticulous modernism."
The hypothetical would certainly assume one major shift: That the current designer of YSL, Stefano Pilati, would be leaving the house. Rumors have run rampant since February that the designer might be leaving, but YSL continues to deny them with today's statement, indicating that "Stefano Pilati continues to dedicate his talent and energies to Yves Saint Laurent and the coming fashion show."
Menkes said Simons "could not be reached for comment on the subject of YSL," though the editor insisted that, thanks to this most recent show, the designer had "certainly has earned an audition for that position." As of Monday afternoon, Simons and reps from Jil Sander could not be reached for comment, and YSL officials declined to elaborate further.
Considering the musical chairs-type situation in Paris when it comes to designers (all set off by the vacant post at the lead of Dior, which is rumored to be likely filled by Marc Jacobs), Menkes' report rapidly set off a series of news reports and melodramatic tweets on the subject of Simons and YSL, though the brand's statement keeps it well within the realm of speculation at this point.