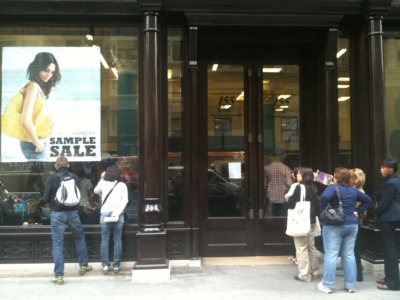 A line of intrepid bag enthusiasts stood in a line that stretched halfway down the block and around the corner to get first dibs on the goods at Rebecca Minkoff sample sale. Inside, a sort of controlled mayhem prevailed.
Today's kick-off was a private intro sale for "VIPs," and thusly the queue was abuzz with cell-phone strategizing for friends and the conducting of business from afar. At 4PM sharp, we made it in with the first batch of about 50 and quickly descended on the fat crop of Minkoff bags. Tables were piled high with a wide range of styles from neon patent leather clutches to oversized neutrals and plenty of studs and fringe to be had. Within minutes the ladies bulldozing through the aisles were equally piled high with bags, making this yet another sale that is most certainly not for the faint of heart.
Prices were very good on said styles -- clutches like the Lover and Rendezvous went for $162 (regularly $295) and $206 (regularly $375). We also saw the Loveletter Satchel priced at $272 from $495, the Matinee mini-duffel at $372 from $595 and the studded bucket Eyelet Devote at $371 in orange and $382 in brown, down from $675. Prices were posted around the room but once the stock had been sufficiently shuffled, it will be hard to keep track of what's what.
A lone rack of clothing stood untouched in the corner, with T-shirts, shirts, pants, skirts, dresses and jackets between $55-$298, marked down about 50 percent from their original prices. No surprise, the big draw remains the bags.
As long as the few renegades don't buy all of the 45 bags they snatched up right away, there were more than enough bags in lots of styles to sustain a good sample sale tomorrow, and likely deals to be found in wild colors and punky styles, as well as the classic neutrals.