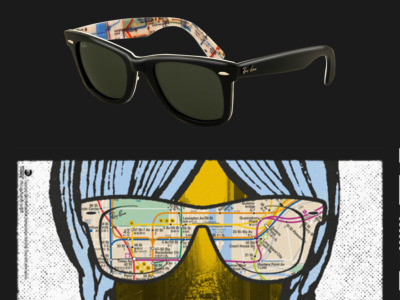 The much lauded NYC subway map has been given homage as one of Ray-Ban's "rare prints" on its new line of Wayfarers.
The colorful and easy-on-the-eye perfection achieved by designer Michael Hertz in 1979 has become another part of the New Yorker's eye's vernacular, making it a fitting pattern for the new Ray-Ban Rare Prints Wayfarer series. The classic sunglasses company has emblazoned the classic city design on the interior of its Wayfarer shades for the true city dweller -- a nice, familiar, but at the same time unexpected touch.
The other Rare Print Ray-Ban has under its belt, interestingly enough, is almost the antithesis of the subway's grit: flowers. For those who aren't quite as attracted to the city's grit as we are, that might be a more enticing option.