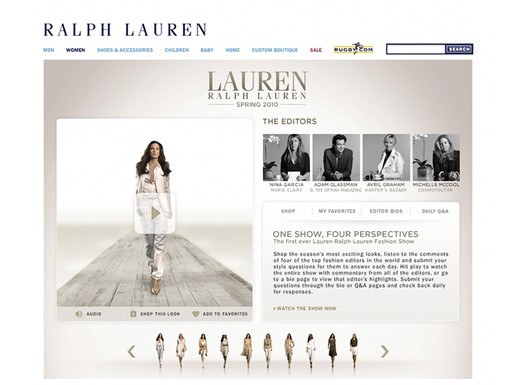 There's been a lot of industry chatter of late about bringing the fashion shows calendar more in line with the retail market, thereby actually delivering new clothes to the consumer at a time when they could actually buy it (as opposed to, say, delivering a slew of spring collections in the winter cold of February). Ralph Lauren is making an interesting (if not perfect) stab at that effort with a virtual, shoppable fashion show for Lauren, kicking off today.
Right now on Ralph Lauren's website, anyone can watch a virtual presentation of the Lauren by Ralph Lauren collection, and -- here's the kicker -- buy anything you like straight off the runway. Overall, pretty slick. Ralph Lauren has even created a virtual front row of sorts in the form of four fashion editors -- Nina Garcia from Marie Claire, Adam Glassman from O The Oprah Magazine, Avril Graham from Harper's Bazaar, and Michelle McCool from Cosmopolitan -- giving their own little commentary as each look goes down the "runway." It's a little eerie, actually -- like you're watching along with them as they're in their offices.
The Lauren by Ralph Lauren fashion show concept comes after Ralph Lauren on the whole has already made big strides in the outreach department -- they've already even staged a virtual runway show for Rugby in December. And we applaud the idea of creating a tantalizing fashion experience that includes the ability to buy -- it really does tie things together in an innovative way. The idea of having these editors, however, seemingly acting as spokespeople for the brand (even if it's by way of discussing how on-trend wide-leg pants are), seems a bit off-key, even though David Lauren, Polo's SVP of advertising, marketing, and corporate communications, stressed to WWD, "[The editors] are not here to promote us, but here to be a part of the dialogue they would be having with their own readers." Frankly, one of our favorite parts of an actual runway show is the variety of opinions expressed -- both positive and negative -- and in this case, we must admit, most of the commentary is (of course) positive.