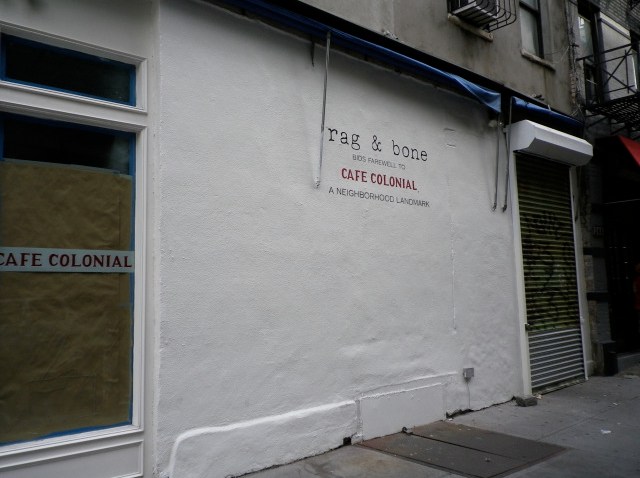 The blogosphere had been buzzing over the swift replacement of Cafe Colonial with a new Rag & Bone store, and subsequently, its alleged delays. But R&B peeps say there's no delay: the soft opening is scheduled for July 17.
UPDATE: Not surprisingly, the original opening date on a construction project is about as certain as a parent's "we'll-see" response to a child's request for a pony. The Rag & Bone camp has postponed the new store's opening on Houston to the end of next week. Maybe.
We stopped by the site the other day to see how things were coming along. The windows were still papered-up, but a new paint job honors the space's former tenant, which had occupied the corner of Elizabeth and Houston Streets for 15 years before shuttering this May. On the wall facing Elizabeth Street, it reads: "rag & bone bids farewell to Cafe Colonial, a neighborhood landmark."
Patience, friends (we can't wait, either).