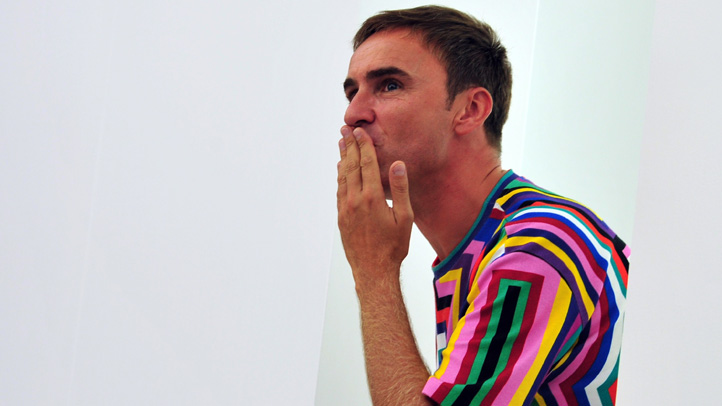 For more than a year, the great mystery hovering over the fashion industry has been who would succeed John Galliano at the helm of one of the biggest fashion houses in the world: Christian Dior. The rumored candidates for the position since Galliano was fired from the label in March 2011 after making anti-semitic slurs have ranged from the likely (Marc Jacobs) to the improbable (Alexander Wang), but at long last, the Times has confirmed that designer Raf Simons will take the helm at the label.
According to Cathy Horyn at The New York Times, the designer's first collection for the brand will be the haute couture show in July. A formal announcement is expected in the next day or so, but it's very official, giving those of us who've been covering the hunt since last year a sigh of relief.
Simons' most recent gig was at Jil Sander, where he was recently replaced by the label's founding designer, Jil Sander herself. Horyn reports that Simons was actually fired shortly before the show, though he was apparently already in talks with Dior. While Simons was best known for his chic, minimal looks, he had erred towards a '50s-inspired femininity in his final collections for Jil Sander, and he told Suzy Menkes that he was especially interested in the early years of Dior:
"I find that period between 1947 and 1957 extremely attractive, and there was a lot of modernity," Mr. Simons said of Christian Dior's designs. "There was the romantic appeal looking back to his mother and the belle époque, but there was also a constant evolution in shape, changing proportions and the ideas connected to the World War were revolutionary."
So, that settles that. Considering Simons' blockbuster, gorgeous Fall 2012 collection -- which apparently brought everyone in the room to their feet -- we're eager to see the kind of fresh approach Simons brings to Dior in the coming months.