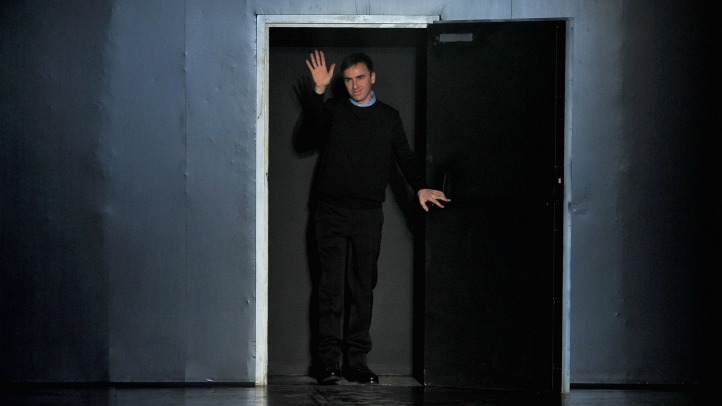 The news that Raf Simons is taking over as Artistic Director of Christian Dior ended over a year of speculation as to who would earn the coveted spot, but the appointment is just one of several major announcements in recent months relating to a creative director switch at a major fashion house. Stefano Pilati's contract was not renewed at Yves Saint Laurent this February, and he was replaced with Hedi Slimane. Jil Sander is back on board at the label she started in 1968, replacing Simons at the help of her namesake label. Now, the rumor of the moment is that Pilati may be heading to Giorgio Armani. If there is anything to be said for the designers chosen to represent these storied Italian and French houses, it is that they represent a new brand of minimalism that has taken hold in fashion recently -- one that favors streamlined silhouettes and muted personalities.
Simons' appointment at Christian Dior seems at least partially inspired by the success of Phoebe Philo's minimalist brand of cool at Céline. Bernard Arnault, CEO of LVMH, the parent company of both the labels, told Newsweek last year, "It will take time, but [Céline] is on the way. Phoebe has the potential. She is doing a style which is completely in line with our time." He also noted in the piece: "My daughter Delphine, she's working at Dior, but she wears Céline."
Belgian-born Simons is known for his streamlined silhouettes. He played with proportion and 1950s couture shapes during his tenure at Jil Sander, but shied away from over-adornment. Slimane (who has worked at Jil Sander and Dior Homme in the past) is famed for bringing the skinny menswear suit into vogue. Sander, who is returning to her namesake label after having ushered a "New Look" there in the 1980s: perfectly cut pantsuits intended for women entering into the workforce for the first time.
The streamlined silhouettes making waves today aren't in the vein of the minimalism of the 1990s -- often thought to be cold and austere. It's a shift that feels more like a palette cleanser from millennial excess. The recession didn't kill luxury as some predicted, but it certainly did change consumer appetites.
New York Times fashion critic Cathy Horyn commented on Simons' appointment to the top post at Dior saying, "His minimalist designs for Jil Sander seemed at odds with Dior's ultra-femininity. And he is a low-key presence in a business that tends to love Barnum types." Yes, Simons is clearly a break with Dior's history, but that seems like precisely the point. Simons told WWD, "I don't think it's wrong to call me a minimalist. It's wrong to call me a minimalist only."
If anything, the latest round of designer musical chairs calls into question whether creative directors with out-sized personalities even matter anymore. Following John Galliano's public firing from Dior last year, underling Bill Gaytten took over as interim head. His collections were largely panned, and yet the Christian Dior revenue machine kept on churning. Arnault said this month that profits had more than doubled to $118.4 million in the latest quarter at Christian Dior, and in-store sales increased by 28 percent -- all without a super-star at the helm.
Galliano was always a larger than life personality during his time at Christian Dior -- a New Yorker profile in 2003 described a designer who lived in an 18th century Paris mansion, required a hair and makeup team for himself before he took his final runway and had round-the-clock personal trainers and drivers at his beck and call. This aspirational excess was something his bosses at LVMH likely believed at the time had a trickle down impact on everything from the sales of $50,000 couture gowns to $30 lipstick.
Increasingly, however, designers are expected to be consistent artists and reliable business leaders, not talented divas. Pilati summed up the new mood, telling Vice magazine this month:
"Let's not forget that we aren't pure creators with rich boyfriends who fund our work and take our hands to lead us along while we do whatever we want. We work for corporations, with hundreds of people who go home at 2 a.m. on the subway, not with drivers. There are whole factories full of people who create our stuff, and in a way there is a public media system that puts us at the center of it all, a system for which we are the face of an entire corporation. You have to come to terms with your responsibility and choices."
More than ever, fashion is becoming a global business. Success for a fashion house today means reliably selling "It" bags and statement dresses everywhere from Beijing to New York. Personality, with a few exceptions like Karl Lagerfeld (whom Robin Givhan even recently called "overrated"), seems to be on the back burner -- at least for the time being.