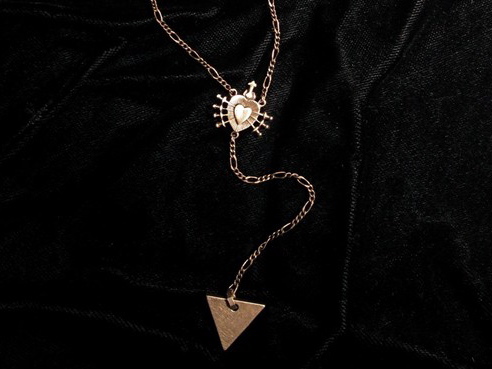 It was almost exactly a year ago that we fell in love with Rackk and Ruin's ancient-looking baubles, and now designer Molly Conant is expanding her main collection even further.
Conant's jewelry has always exuded a kind of historical, tribal vibe, but never so much as in the newest pieces, which display her love of vintage charms and "upcycled" materials in the salvaged leathers, natural feathers and raw crystals.
Each piece is imbued with a kind of found-treasure feel, like the "Seven of Sorrows" necklace, a triangle-adorned rosary with seven tiny brass swords at the center, or the handmade "Salvage Peacock" necklace, which features long green feathers sewn together in a strip of black salvaged leather. Frankly, we're impressed by Conant's ability to render her high-design sensibilities in such affordable pieces (and yes, that's a holiday shopping hint).