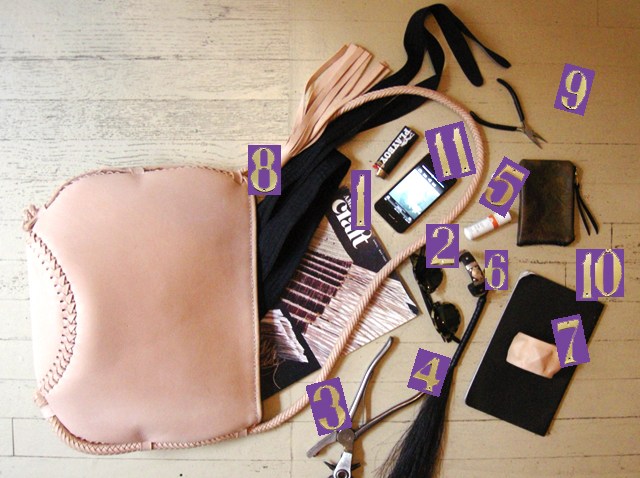 If anybody knows her way around a fabulous handbag, it's Soho-based designer
Wendy Nichol.
Nichol's signature "Bullet Bag"—a sleek bucket-shaped satchel with tassled draw strings—has been breaking hearts since her first storefront opened on Sullivan Street last fall. With celeb fans in Scarlett Johansson and Elizabeth Jagger, Nichol quickly rose to cult-fave status, and added a range of tough-girl jewelry (spikey earrings, abalone pendants) to accompany the range of bags. Naturally, we were eager for a peek inside Nichol's own pale pink carry-all (the bags are all created on site at the store), and we weren't disappointed. Vintage magazines, beauty basics, and a few jewelry essentials are all Nichol needs to keep herself fabulous on the go.

1 - Vintage American Craft Magazine, June 1984 - "Good for textile junkies"
2 - Oliver Peoples Sunglasses - "Best impulse buy of 2011"
3 - Osborne Leather Punch Tool - "Heavy metal!"
4 - Wendy Nichol Horse Tail Key Chain - "New, still needs some keys."
5 - Dr. Hauschka Lip Balm - "It's orange!"
6 - Vintage African Horn Bracelet - "Love it so."
7 - Wendy Nichol Nude 3 Pyramid Cuff - "Delivering to a friend"
8 - Electric Feathers Silk Obi Belt - "This came with my favorite Electric Feathers silk ruffle dress!"
9 - Wire Crimper
10 - Moleskin Notepad - "For brainstorms and lists."
11 - iPhone - "Currently playing John Lennon Plastic Ono Band. "