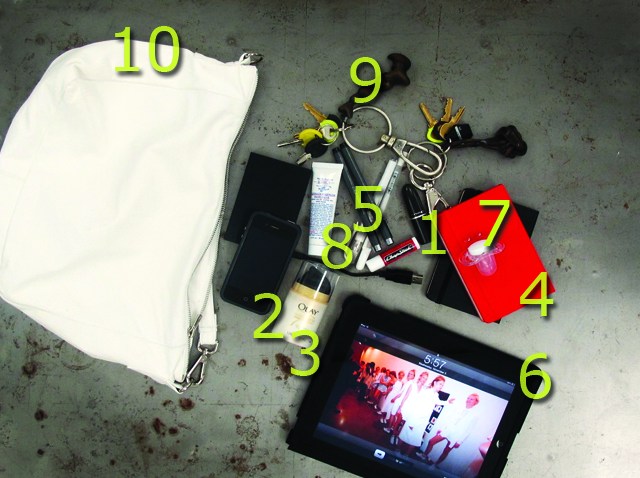 Wayne Lee -- the creative talent behind up-and-coming New York label, WAYNE -- carries versatile beauty products and tech essentials in an all-white handbag of her own design.
From baby pacifiers to Kiehl's hand salve, Lee stays prepared for any eventuality. And even though she didn't pack one on this occasion, we bet one of those effortless, drapey tunics from her spring '12 collection would fit easily in her slouchy satchel.
1. MAC Lipstick: "The ­ only brand of lipstick I wear."

2. iPhone

3. Olay Total Effects Moisturizer: "I have extremely sensitive skin and this always works well!"

4. Red and black Moleskine notebooks

5 Pens: "In black and white ink."

6. iPad: "With a backstage image from the Spring/Summer 2012 runway show."

7. Pacifier: "Baby pacifier for my son, Clive."

8. Kiehl's Hand Salve: "Great for my sensitive skin."

9. Eric Fertman Keychain: "These are crafted from walnut wood by artist Eric Fertman,
who collaborated with me on the Fall/Winter 2011 jewelry for the show."

10. White leather handbag: "From look 13 of our Spring/Summer '12 show."