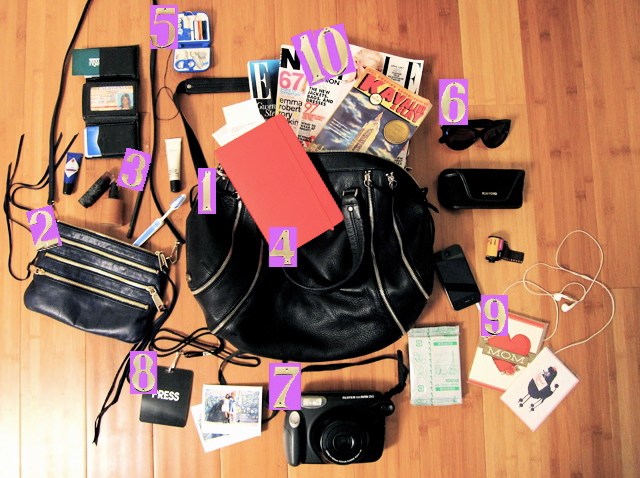 Jazzi McGilbert -- better known as Jazzi McG -- is a Web 2.0 jack of all trades for the fashion set; a renaissance woman for the laptop generation. Working as a blogger-cum-stylist (or vice versa) for the past five years, Jazzi has documented her ascent from Teen Vogue intern to sought-after fashion authority in her playful personal blog, which started off devoted to "Confessions of an Intern." Her crazy schedule and bi-coastal living arrangements (Jazzi currently splits time between Los Angeles and NYC) make her a true gal on the go, an epithet stylishly reflected in the contents of not one, but two fabulous handbags.
1. Botkier Howard St. Satchel: "Clearly I carry a lot of [stuff] and this bag is totally my enabler, but I adore it!"

2. Rebecca Minkoff 3-Zip Rocker: "My smaller bag for the essentials: makeup, my boyfriend's old wallet, phone and a toothbrush that I use to brush my bangs not my teeth ... "

3. Makeup essentials: "Lip balm is the only thing I really can't leave the house without. I also have my favorite Giorgio Armani foundation, which was recently discontinued in my shade so I bought the entire stock left in L.A. And I keep my favorite super-dark plum lipstick ("Homegirl" by Kat von D) for a quick nighttime transformation."

4. Red Moleskine notebook: "I never leave the house without this. Pretty much my tome of to-do lists, notes and random thoughts."

5. Sewing Kit: "This has come in handy on so many occasions. Everyone should keep one in case of wardrobe emergencies."

6. Tom Ford "Anouk" sunglasses: "These are the perfect cat eye shape and so necessary for daytime driving in L.A."

7. Fuji Instax camera and extra film: I have stacks and stacks of photos I've taken with this. Film (and especially instant film) is just so much more fun than digital, but I carry both. I buy the film in bulk -- it's cheaper that way.

8. Press Pass from MOCA's Art in the Streets exhibit:"I covered the exhibit for NYLON and had so much fun. It's a must-see if you're in L.A."

9. Greeting cards: "I just picked these up from Uncle Jer's in Los Feliz. The store is closing and they're having a good sale. One is a Mother's Day card for my mom. She recently rejected my idea to get matching tattoos, so I thought this was appropriate."
10. Reading material: "I'm traveling this week, so I have ample reading material, but I stop at my local newsstand so often my bag is always full of magazines."