Ten years ago, Sara Blakely was selling fax machines while working on her pet project -- a line of body-shaping hosiery -- on her lunch breaks and weekends. Today, Spanx has grown into an international brand, a favorite of celebrities and stylists alike who depend on its miraculous waist-cinching abilities.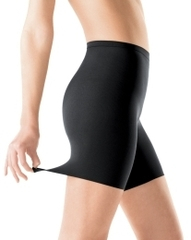 In addition to running her business, Blakely is also a mom-on-the-go. Her handbag contents are packed with kid-friendly yogurt snacks and pacifiers as well as luxe beauty essentials. Naturally, she also carries her business card -- redeemable for one Spanx product -- in case she spots a little "VPL" on the sidewalk.
1. Checkbook: "Yes, I still write checks."
2. Flip Video: "I want to be able to capture anything and everything!"
3. Chat Pack: "A stack of cards that start conversations."
4. My son's pacifier: "In case of an unexpected melt down."
5. Jan Marini Sunscreen: "Best sunscreen, been using it for years."
6. Dr. Brandt Pores No More: "Minimizing appearance of pores with a matte finish."
7. Hand Sanitizer: "Clean hands are a must!"
8. Happy Melts: "Organic yogurt snacks. A convenient, healthy snack for my son."
9. Business Card for a Free Spanx Item: "For when I notice someone with bad VPL (visible panty lines)."
10. Dylan Lip Saver: "Lip balm/sunscreen in one. Chocolate flavor too!"
11. Aromatherapy Fine Line Face Oil: "A great array of oils that feel weightless while softening fine lines."
12. Oliver Peoples Sunglasses
13. Bobbi Brown & Clea de Peau Concealers: "I mix both."
14. Nars Lip Crayons and Stila Gloss