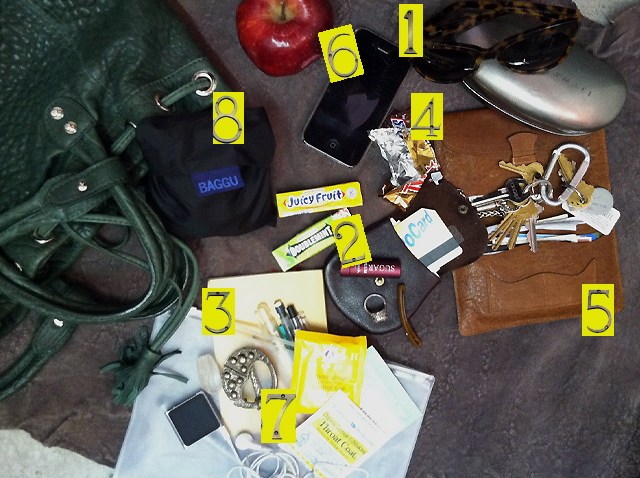 After spotting jewelry designer Meredith Kahn in person -- a vision of tousled black hair, tattoos, and unusual punky gems -- we'll admit, we were a bit desperate to see what was insider of her handbag.
Equal parts Patti Smith and Chan Marshall, there's no denying that Kahn is one of the coolest ladies designing in New York City. Her jewelry collection, "Made Her Think," which finds inspiration in everything from the Victorian Era to bird talons and cobras, has become a favorite among hip downtown-ers seeking luxe adornments with an edge. While you won't find thorns or tusks in her satchel (and you might half-expect them, considering the content of her collection), Kahn keeps plenty of bauble "back-ups" and design materials on hand to accommodate sudden bursts of inspiration.
1. Sunglasses: "I never leave home without my Norma Kamali tortoise cat-eye sunglasses"
2. Lip Balm: "Fresh's Sugar Lip Tint In Plum is the perfect hint of color and moisture"
3. Design Kit: "Being a designer I never know when or where I will be inspired, so I keep pencils and paper on me at all times. I love pens from Muji in Soho."
4. Candy Wrappers: "As a mother and business owner I am always on the go. I keep candy in my purse to snack on -- Twix are my favorite."
5. European Wallet: "This wallet is an exact replica of my grandfather's from World War II. I loved it so much I had it re-made so that I wouldn't mess up the original. When it was passed down to me it still had European bills in it."
6. iPhone - "I am a Mac! I use my iPhone constantly and always have an iPod for the subway rides."
7. Jewelry - "As a accessories designer, I always have either inspiration pieces or emergency jewelry in my bag. Sometimes both. This 'Viking Ring' is one of my favorite pieces!"
8. Baggu - "I am, and always have been, a bag lady. I feel better knowing I have my BAGGU to use instead of wasting paper or plastic.