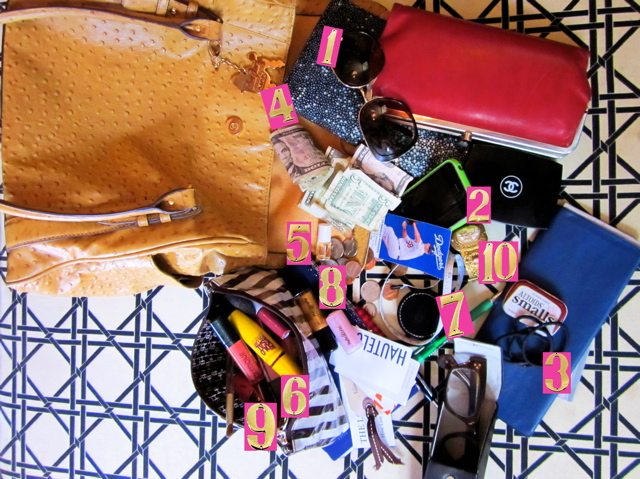 Award-winning costume designer Janie Bryant is arguably one of the most infuential forces in fashion today.
Her elaborate period designs for shows like "Deadwood" and, most recently, "Mad Men" has sparked a swinging '60's renaissance on catwalks like Oscar de la Renta and Michael Kors, not to mention served as inspiration for countless glossy-mag editorials. So how does Bryant keep her legendary cool between fittings? If the contents of her handbag—a cool, ostrich-embossed leather satchel of her own creation—are any clue, the answer is simple: Altoids, of course, and a few swipes of extra-shiny Chanel gloss.
1 - Sunglasses: "I can't go anywhere without these."
2 - iPhone: "Staying connected on the go."
3 - Hair Ties: "To pull my hair back and get down to business!"
4 - Evening bag: "You never know when you'll be in clutch!"
5 - Nailtini: "I like to keep my favorite polish on me to fix a chip or change my color for a fabulous event."
6 - Maybelline Colossal Mascara: "Keep my lashes plump and pretty all day long."
7 - Tape Measure: "Just in case I need to measure a vintage outfit or that perfect mirror for my bedroom."
8 - Perfume samples: "I like to reapply throughout the day so I keep delicious scents with me all the time.
9 - Chanel lipgloss: "I cannot live without!"
10 - Vintage Jewelry: "If my mood changes, I like to have a vintage keepsake with me to change up my outfit."
Visit www.janiebryant.com to sign up for Bryant's style tips and tricks, or follow her on Twitter, @JanieBryant.