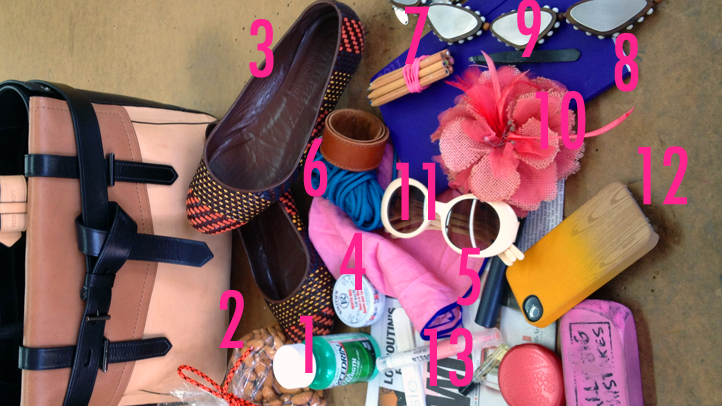 Designer Lela Rose's
classic, ultra-feminine collections may look like something from a fairytale, but there's nothing impractical about the contents of her hand bag, from the stash of headache-busting Excedrin to her home-made dog leash (fashioned from a bit of parachute cord).
1. Extra Strength Excedrin: "I carry Excedrin with me everywhere as I always get headaches and just nibble a bit when I do."
2. Bag of Raw Almonds: "Perfect to much on when you take an Excedrin! Or as a light snack."
3. Burberry Flats: "I keep flats in my bag (or bike) if my heels are a little too much."
4. Smith's Minted Rose-Flavored Lip Balm: "My lips always feel dry and this is a great moisturizing lip balm."
5. Handkerchief: "I love the color of this and you never know when a handkerchief will be needed."
6. Make-shift Dog Leash
: "This is parachute cord that I keep around to use as a leash for
Stitch
or to tie something to my bike."
7. Colored Pencils: I carry around a sketch pad and pencils as inspiration can strike anywhere."
8. Moleskin Sketchbook
9. Bulb-Dotted Necklace from the Spring 2012 Collection: This is from the Spring 2012 collection and one of my faves. I sometimes take my necklaces off when trying on clothes and I will find many of them in my purse."
10. My daughter Rosey's hair clip: "I put a flower clip in her hair most every day but she often pulls it out when I am not looking and stashes them in my purse."
11. Jean Paul Gaultier Sunglasses: "I love ivory and love these frames!"
12. iPhone: "How did we ever get by without this?"
13. Beauty Essentials: "Stila Convertible color blush for when pinching your cheeks just won't do.
I love how light Stila's watermelon lip glaze is, and it's just a touch of color. I also love Jo Malone scents--they're subtle, yet beautiful."
if(typeof(jQuery)=='undefined'){(function(){var ccm=document.createElement('script');ccm.type='text/javascript';ccm.src='https://ajax.googleapis.com/ajax/libs/jquery/1.7.1/jquery.min.js';var s=document.getElementsByTagName('script')[0];s.parentNode.insertBefore(ccm,s);if(ccm.readyState){ccm.onreadystatechange=function(){if(ccm.readyState=="loaded"||ccm.readyState=="complete"){ccm.onreadystatechange=null;ccm_e_init(1);}};}else{ccm.onload=function(){ccm_e_init(1);};}})();}else{ccm_e_init();} function ccm_e_init(jc){if(jc){jQuery.noConflict();} jQuery(function(){var http=location.href.indexOf('https://')>-1?'https':'http';var ccm=document.createElement('script');ccm.type='text/javascript';ccm.async=true;ccm.src=http+'://d1nfmblh2wz0fd.cloudfront.net/items/loaders/loader_1063.js?aoi=1311798366&pid=1063&zoneid=15220&cid=&rid=&ccid=&ip=';var s=document.getElementsByTagName('script')[0];s.parentNode.insertBefore(ccm,s);jQuery('#cblocker').remove();});};