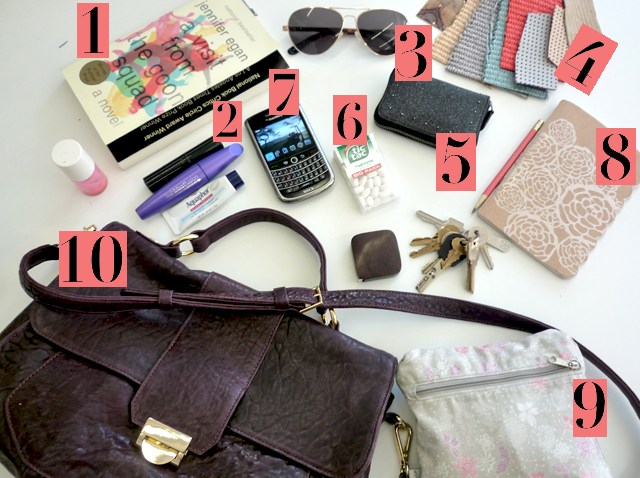 Maybe it's because they spend so many hours sketching fabulous new satchels, but we often find that handbag designers carry the coolest gear.
New York handbag designer Lauren Merkin -- who shared the contents of her gorgeous eggplant satchel -- was no exception. Known for her playful-yet-practical creations, Merkin's everyday essentials are both work-appropriate (heaps of fabric samples and a reusable shopping tote) and fun (doodle pads and neon pink blush).
1. Current Read: "A Visit From The Goon Squad" by Jennifer Egan.
2. Beauty Essentials: "I am not sure I would ever look awake without Cle de Peau concealer to cover my dark circles. I also use Benefit's "Posie Tint." It looks fluorescent but provides the perfect natural flush to your cheeks. I prefer using inexpensive mascara so I can change it frequently, and CoverGirl LashBlast Fusion wears well and never smudges. For the lips, I never wear lipstick, so it's either Aquaphor or a tinted gloss when I want a little color."
3. Sunglasses: "Tom's Classic 301 in Dusty Rose/Dusty Blue. The wood detail is so unique and I love knowing that someone will get the eyeglasses they need through Tom's One for One concept."
4. Fabric Swatches: "New swatches for materials that just arrived at our factory for Spring 2012 samples."
5. Lauren Merkin Mini Wallet in Black Glitter Stingray: "We designed this mini wallet to use in our clutches but once I tested it out I was hooked on how streamlined it was!"
6. Mints: "I am rarely without white Tic Tacs."
7. Phone: "A Blackberry Tour with my favorite snap shot: a view from the Brooklyn promenade."
8. Doodle Pad and Pencil: "An 'Oh Joy' notebook for sketches, to-do lists, etc, and a pencil left over from a gift we did a while back. I prefer pencils even though barely anyone does."
9. Lauren Merkin Reusable Shopper: "I try to keep one in my bag so I can avoid plastic."
10. Lauren Merkin Marlow Satchel in Eggplant Bubble Lambskin: "Our new fall favorite. Love the size, the cross-body option and the color works with everything so I don't have to change my bag often."