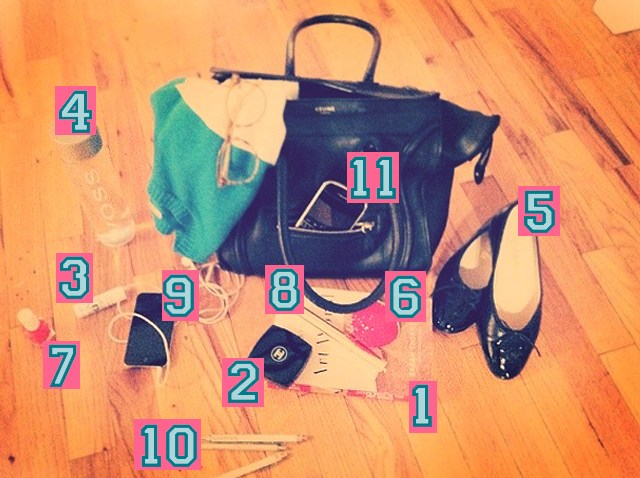 Designer Katie Ermilio is nothing if not a classy gal. The granddaughter of Grace Kelly's personal clothier, Ermilio's fashion aesthetic could be described as timeless elegance given a modern punch (picture hot pink pantsuits and ruffle-back cocktail dresses).
The contents of her smart Celine satchel are similarly considered, from her favorite "Orchid Rose" Chanel blush to a pair of patent black ballet flats.
1. Book: "I'm currently reading 'Seven Days in the Art World' by Sarah Thorton. I can't put it down."
2. Chanel Blush in Orchid Rose: "Best. Blush. Ever."
3. L'Occtaine Lip Balm: "My favorite lip balm of all time. I have one in every coat pocket or bag I own."
4. Water Bottle
5. Ballet flats: "I tuck these into my bag when I know I'll be in heels all day running around for meetings. They are a lifesaver after a day in stilettos."
6. My pin cushion bracelet: "I could not get through fittings without it."
7. Essie Nail Polish in Lacquered Up: "My job requires me to work with my hands nonstop, so I keep polish around in case I need a touch-up before any occasion that calls for my manicure to look fresh."
8. Dolce & Gabbana Secret Eyes Mascara: "A recent obsession of mine, this mascara is so natural."
9. iPod: "I make new playlists constantly, so I always have my iPod on-hand to listen to them when I'm on-the-go."
10. Pencils: "For sketching (and writing reminders)."
11. Blackberry Bold: "Camera plus e-mail plus everything I need -- in one device!"