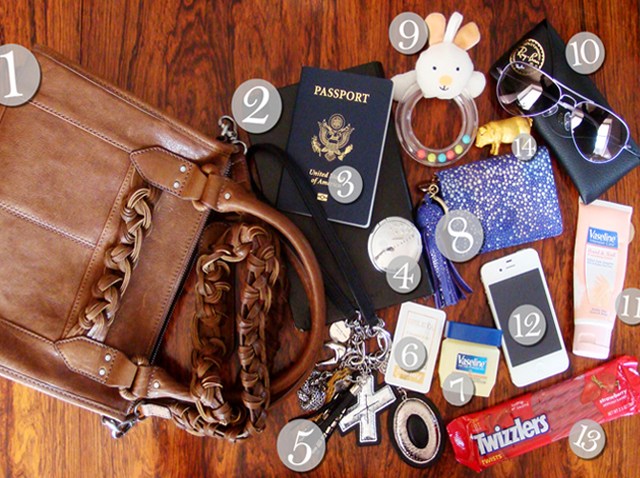 Handbag designer
Katherine Kwei
cut her teeth at
Louis Vuitton
before launching her own line of luxe satchels and clutches in the spring of 2007. Utilizing a traditional Chinese knotting technique learned from her grandmother, Kwei's pieces are easily recognizable bu their unusual, undone texture, and count Sienna Miller and Blake Lively as devotees. Kwei's own handbag -- a classic "Lulu" tote from her most recent collection -- is brimming with beauty essentials and good luck charms, including a (highly adorable) golden pig in honor of her husband and father.
1.Lulu Small Tote: "One of my favorite bags from SS11 that I use almost every day. I love the new knotting details on the front slip pocket and shoulder strap, which allows me to wear the bag across the body as well."

2. Moleskine Journal: "This journal goes everywhere with me -- it is getting so beat up. I love using it to record my thoughts and designs. The mini-grid pages help with sketching and proportions. "

3. Passport: "I don't have a US driver's license (have a Chinese one from Hong Kong) so I have to carry this around with me for ID purposes."

4. Chantecaille Mimosa Lip Gloss (SPF 15): "This is my favorite gloss at the moment. There is just a hint of peach and I always love the long lasting wear and shine."

5. Keychain: "This XO charm is from our AW10 collection. I also added a knot we did with some sample chain. I love to have lots of stuff to hang from my key chain, besides the actual keys. It makes it really fun to carry around."

6. Sisley - Radiance Anit-Aging Concentrate: "I am so lucky to have the best saleswoman at Sisley who always gives me samples. I use this cream daily and carry the sample around just in case I need some emergency hydration."

7. Vaseline: "I know it's so old-school, but I love this on my lips or to rub into my cuticles when they are very dry."

8. Clea Card Case: "I love the color and it's so easy to find! The zippered inner pocket is great for small change. It's also big enough to fit all my cards and cash."

9. Rattle: "Emergency toy for my baby. It's his favorite at the moment."

10. Ray Ban: "Picked these up while in Hong Kong. I love the lavender color frame on these classic shades. So fresh for summer!"

11. Vaseline hand cream: "I love the scent and that it's not greasy. It is a staple in my bag."

12. iPhone: "I just got this as my dog literally ate my Blackberry. I do love the apps, the video and photo functions, but other than that, I still wish I was using a Blackberry."

13. Twizzler: "Always in my bag and one of my many vices."

14. Gold pig: "I carry this for good luck. Not only was my husband born the year of the pig on the Chinese zodiac, but so was my father. This animal carries lots of symbolism for me."