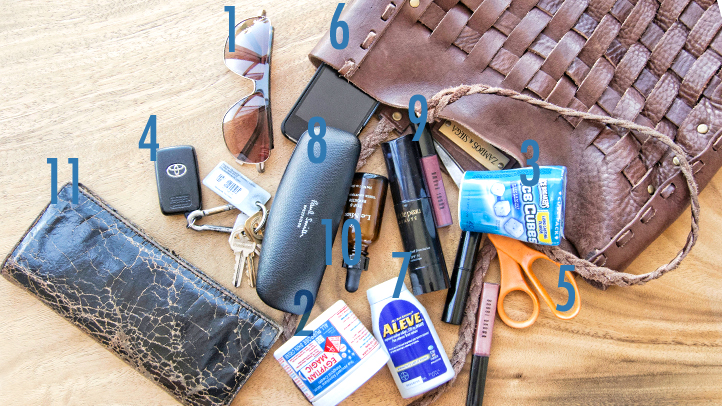 Based on her playful, vintage-inspired collection, we knew we could expect a few fuss-free beauty products and inspiring trinkets in
Karen Zambos' handbag.
The designer's woven leather tote didn't disappoint, stuffed with hard-to-find potions (we have to get our hands on some "Egyptian Magic" healing cream) and more practical essentails like scissors for snipping inspiring fabrics.
1. John Varvatos sunglasses: "Although these are men's sunglasses, I absolutely love the way they fit!"
2. Egyptian Magic: "The greatest healing cream ever invented! This is an all purpose cream, from healing scars to smoothing wrinkles to reducing stretch marks for pregnant women."
3. Ice Cube gum: "Need to keep your breath fresh at all times. I find this gum holds the flavor the longest."
4. Keys to my Toyota Prius: "Well, need we say more?"
5. Scissors: "For cutting swatches of fabric—my favorite way to stay inspired daily."
6. Zambos & Siega bag: "I get stopped everywhere about this bag! It is the perfect size tote that is timeless."
7. Aleve: "For all those people who give me headaches! I feel Aleve relieves the pain quicker than any other pain reliever out there."
8. Paul Smith eyeglasses:
"Well, I need to see! Love my glasees because they really go with every outfit."
9. Beauty essentials: "Cle' de peau foundation and concealer are the absolute best on the market. It is very light, so wearing this daily you don't even feel like you have anything on and it really does hide every blemish.
10. Le Mieux Tissue Growth Factor Booster: "Try this for two weeks and you will be amazed at the texture of your skin. Try it—you will be pleasantly surprised."
11. Marc Marmel distressed wallet: "Perfect vintage-looking wallet that can carry so much. Listen, as we all know, anything vintage or vintage-looking is a plus in my book."