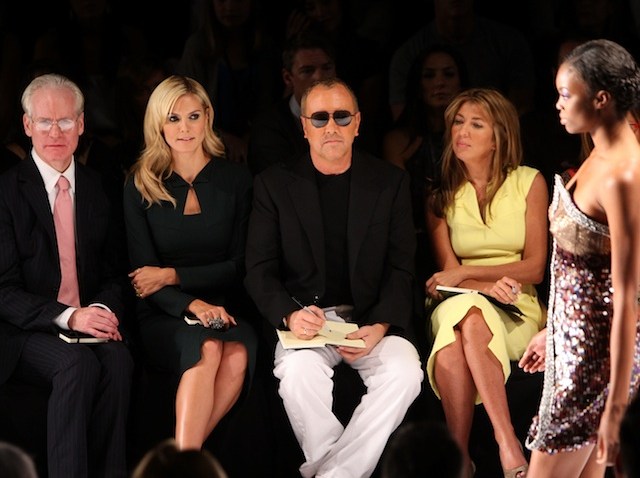 The ninth season of Project Runway premiered rather quietly last night, despite a month-long campaign starring a nude Heidi Klum, which doesn't exactly position the series well in terms of competing against the myriad fashion-design shows slated for the upcoming season.
Save for Tim Gunn, the show's strengths now seem to center around its authenticity: shooting in the Garment District and at Parsons (after jumping around for a few seasons), focusing on design and technical skills, steering clear of catty designer stereotypes. Christina Ricci as the season-premiere guest judge didn't exactly up the drama on the episode overall, especially with her lightweight input and admittedly limited technical knowledge.
This episode started off with the final casting, rather like a muted version of American Idol's opening audition scenes, with four finalists going home right off the bat. Once we had that out of the way, it was time for the real challenge: To create a look using only one's bed sheet and pajamas—literally, just what they had worn to bed: When Beckyasked if she could put on her bra, Tim Gunn said no.
Bert — a 57-year-old recovering alcoholic who'd worked with the likes of Scaali, Blass and Halston, but who had given up design in 1992 when his partner fell ill -- spun his orange checked boxers into a darling asymmetrical dress (though judge Michael Kors pointed out that the styling was somewhat questionable.)
Another contestant who stood out was Anya, a former Miss Trinidad and Tobago who only learned to sew four months before the competition—when she wheeled in her impeccably-constructed garments to the final audition, the judges doubted she'd made them, but proved them wrong when she sent a gorgeous pair of trousers down the runway. Then there was Laura Kathleen: Truthfully, we wrote her off as an entertaining but lightweight early flame-out, but the ditzy Southern blonde seemed to pack more talent up her sleeve than we had initially anticipated, explaining the nuances of fabric dyeing as Cecilia floundered over the bucket next to her.
"Urban glam" designer Kimberly offered no small amount of spunk, and the tiny and unassuming Olivier was an early judge's pet. Otherwise, there seem to be the requisite flamboyant diva-boy types and prickly, ruthlessly confident overachievers like Danielle, who pouted after landing safely in the middle.
Bert's flattering dress won the day, causing the youngsters to admit some false presumption about the oldest fellow in the bunch, but overall the lack of momentum and intrigue around the competition was a bit alarming for a season premiere. Of course, the teasers display the requisite amount of drama -- Tim Gunn saying critically: "Never in the history of Project Runway have I been so worried ... about people not being finished" -- but even that seemed like a push.