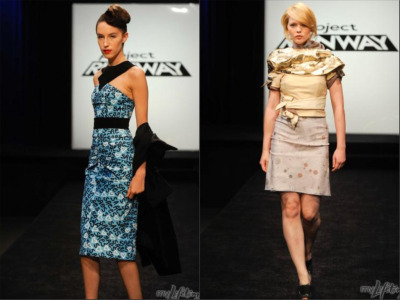 Vivienne Tam joined the judges' panel on this week's Project Runway, helping to plug HP and critique the group's original patterns.
Spoiler Alert!
Emilio ended up winning this week, with a graffiti monogram print that seemed dubious at first, but culminated in a striking, 40s-era dress and jacket that looked smart and timeless. Judges also loved Seth Aaron's inventive pop-art print on a trim jacket that he paired with a tie, and Maya's fiery red-orange print that ran along side panels on a body-con minidress.
That was the good. Then, there was the not-so-good.
Mila, who's typically a favorite with her sophisticated talent and intriguing, mod-style taste, had her first flop this week. She painted stripes and splashed them in a bias-cut along the skirt of a rigid maxi-dress that was impossible to walk in for the model. Michael Kors was so averse to Jonathan's muted gray-dot pattern and reverse gold metallic jacket that things got quite heated on the runway. Kors compared the dress to a tablecloth that had had a smattering of spills and deemed its topper a straightjacket. Jonathan was not pleased and said as much to everyone's shock.
In the end, however, the back-talk wasn't enough to get him booted and, somewhat surprisingly (but only somewhat), the flamboyant Anthony was sent home for a generic, sweetheart-neckline sheath and so-so purple print. And then, there were six.