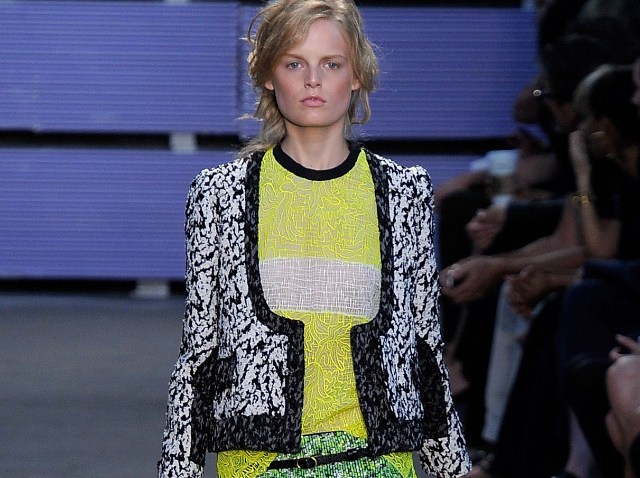 In a packed warehouse on West 20th last night -- with Anna Wintour, Leighton Meester, and Courtney Love perched front row -- Proenza Schouler's Jack McCollough and Lazaro Hernandez debuted yet another thrilling collection, establishing a several-season run of bar-setting lines.
Proenza Schouer's Spring 2011 was an exercise in taking a fresh look at the classics, the designers told us in a post-show interview. And, indeed, the iconic ladylike pieces were all present -- tweed jackets, silk sheath dresses, '50s-inpired rounded coats -- but rendered in neon fabrics, with skin-baring silhouettes (many a triangle bra was visible), they were hardly recognizable as such. And it is exactly this kind of quirky, directional fashion for which the Proenza designers have become known, and likely why a new report that Theory might be edging closer to purchasing the brand seems perfectly plausible -- what large brand wouldn't want Proenza in its stable at this point?
In addition to the dazzling neon brights, the textures were the collection's real highlight: Each piece looked like work (read: worth the price tag), from a bumpy silk shibory skirt to an inky alligator jacket to the embroidered neon sheath dresses. The contast of prints and colors paled in comparison to the winning hodgepodge of fabrics present on the runway. (In truth, it seems the most interesting designers working today have been mixing more than they've been blending -- Rodarte, Peter Som, Proenza Schouler.)
It was clothing certainly not destined for a dimly-lit presentation space, and the designers made certain their audience would be alert: Instead of a traditional runway lights coming up at the start of the show, a series of ultra-bright ceiling neons switched on at the top of the show, giving all the editors quite a jolt.
"We wanted people to be able to see the clothes," McCollough said simply.