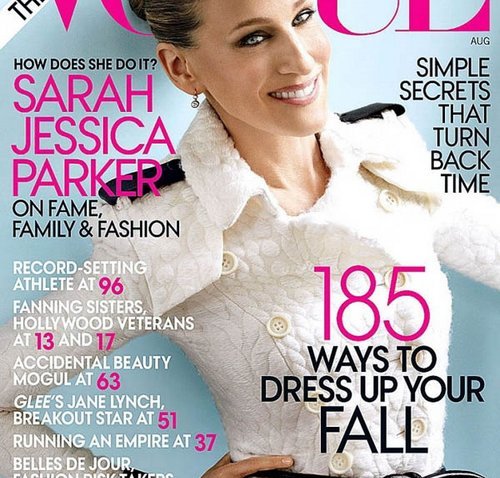 As much as people may proclaim that Web is king, a rash of recent exclusives in print media is proving that major fashion brands and personalities still prefer to release big news through a more traditional print medium.
Case in point: the August issue of Vogue, which singlehandedly set the blogosphere abuzz over the news of Sarah Jessica Parker's departure from Halston (an offhand mention that the relationship had recently ended was buried in a cover profile). What' more, that wasn't the only bit of intel to make its way to the Web: The magazine also released the first images of both Dylan Lauren's Ralph Lauren wedding gown and premiered a look from Karl Lagerfeld's upcoming collection for Macy's.
To be clear, this is Vogue's August issue—which is traditionally more of a sleeper precursor to the year's September issue opus. With Vogue's September ad pages surging 9 percent to 584, that issue should pack even more of a punch.
Big-name designers like Tom Ford, Phoebe Philo and Azzedine Alaia have been playing a pretty major role in supporting the glossies, certainly, with their conspicuous efforts to circumvent the instantaneous social media explosion around their shows, to varying degrees. Ford is likely the most notorious, restricting access to his shows and carefully orchestrating exclusive first looks in magazines. A note-worthy exception to this, it should be noted, seems to be videos: Ford, among others, has released visuals from a new collection on the Web in video form.
There is a certain sense of quality control that the glossies still command: While the web may make for a good jumping-off point for things like a leaked image of Marc Jacobs' fall ad campaign, Alexander Wang's music video, or a behind-the-scenes teaser for the upcoming Carine Roitfeld-styled V Magazine issue, these seem more attempts to build viral buzz rather than a full-blown campaign premiere. A multi-page spread on shiny stock continues to be worth the wait for many.