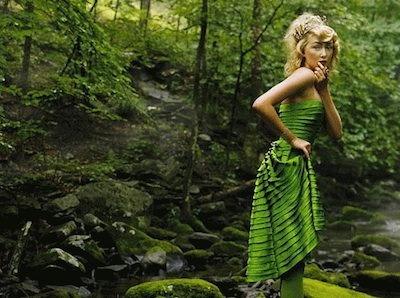 Runway to Green, WWD reports, is high fashion's latest move towards environmental consciousness, in which 24 participating designers incorporate a "green" piece in their fall collections, to be debuted during Christie's Bid to Save the Earth event on March 29.
The program is a follow-up to the successful, fundraising Runway to Change, which raised around $3 million for Barack Obama's presidential campaign in 2008. For Runway to Green, Vogue director of special events, Sylvana Ward Durrett, and Luisiana Mendoza, former assistant to editor-in-chief Anna Wintour, have enlisted an impressive rosters of designers to participate, including Diane von Furstenberg, Prada, Balenciaga, Gucci, Marc Jacobs, Michael Kors, Burberry, Alexander Wang, Tory Burch, YSL, Jason Wu and more.
In addition to having the pieces unveiled at Christie's, the designers will include them alongside their regular fall collections and Net-a-Porter will stock each piece exclusively online on the night of the show (several months ahead of their availability in designers' stores for the regular fall roll-out). A portion of the proceeds from each piece will go to various environmental programs, from the UN Billion Trees Campaign to the Central Park Conservancy.
Christie's Bid to Save the Earth event will be co-chaired by David and Susan Rockefeller; François-Henri Pinault and Salma Hayek; Graydon and Anna Carter, and Vogue.