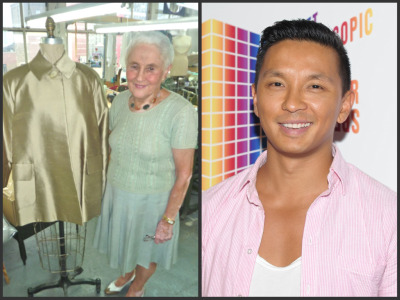 Prabal Gurung is not only a smash-hit designer, he's also a busy blogger, bringing his overall-nice-guy skills to bear on an "Unsung Fashion Heroes" series for the house's Behind the Scenes blog.
UFH takes a look at the industry's most crucial, yet least visible players. "Having been a behind-the-scenes figure for so many years, I know what it is like to work incredibly hard, put in your time and not be recognized for any of it," Gurung says. "This blog series is my tribute and homage to all of the assistant designers, editors, patternmakers, sewers ... everyone who makes it happen."
Most recently, Behind the Scenes featured Gloria D'Angelo, owner of D'Angelo tailoring factory in the Garment District. Besides Gurung, D'Angelo's clients have included Halston, Donald Brooks, Adele Simpson, Maurice Rentner, Calvin Klein, Bill Blass, Pauline Trigere and several others. Other Unsung Fashion Heroes have included patternmaker Nicholas Caito and veteran Pauline Trigere design director, Lucie Porges.
Besides the individuals' respective fashion expertise, the series highlights the significance Gurung has placed on the industry's New York home. Most of those who fit the category are of an increasingly rare breed here in the city. Says Gurung: "I believe it is ... important to bring attention to the incredible craftsmen and women in New York. There is such talent in this city and I feel strongly about New York designers generating business for the city, particularly within the Garment District."
We'll go out on a limb and suspect that he was partially inspired by his recent participation in a panel on the Garment District and fashion in the city, but overall, the move reflects highly on Gurung not only as a major player, but as a conscientious one.