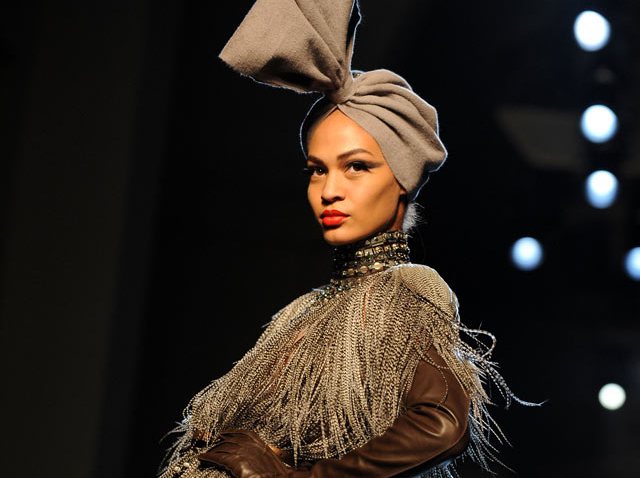 In honor of Bastille Day, a series of points for and against the idea that, despite the advances of New York as a fashion capital, Paris remains the beating heart of the fashion world.
POINT
1. Couture is Fashion at its Purest: Paris remains not only the owner of the couture shows from a geographical perspective (all the shows are staged there), but also from a theoretical: No house may call itself a couturier unless granted permission by the French government.
2. Paris Fashion Week Blew All the Other Fall 2010 Shows Out of the Water: Despite the fact that New York had a particularly strong showing for Fall back in February, the shows in Paris toward the end of the larger Fashion Week extravaganza were a revelation: Vuitton's retro-inspired busty dames, McQueen's spectacular gilded gowns, and Balenciaga's futuristic pastels.
3. Zac Posen's Leaving NYC for Paris: The city's former fashion wunderkind, Zac Posen, is leaving us for Paris because, as he allegedly said, they will "understand" his clothes. We'd fault the kid, but most designers will agree that Paris is much more interested in fashion on a conceptual level, whereas New York remains seriously retail-focused.
4. The most powerful long-standing fashion brands: Chanel, Louis Vuitton, Yves Saint Laurent, Christian Dior, etc.
5. Carine Roitfeld. 'Nuff said.
COUNTERPOINT
1. The French May Be Stylish, But They Don't Sell: While Parisian fashion may still set trends (ahem, Isabel Marant), few Paris-based designers have the global retail explosion potential of, say, and Alexander Wang. (Even high-end Jason Wu has a pretty spectacular sell-through rate.) To be fair, the French buy wisely and less frequently, a trait to be admired, but if the industry's supposed to make billions, look to the Americans.
2. New York Supports Indies: Despite the fact that France counts its fashion scene as one of its glittering gems, it provides little in the way of funding for up-and-coming talent. Emerging designers in New York, on the other hand, have the CFDA (and the Vogue Fashion Fund), as well as a newly-installed
3. Fashion's Night Out: Does anyone really think a spectacular event where retailers to stay open super late would work anywhere but New York?
4. Powerful established brands (Oscar de la Renta, Donna Karan, Calvin Klein, Diane von Furstenberg, etc.) and powerful newbies (Alexander Wang, Phillip Lim, Jason Wu, Prabal Gurung)
5. Anna Wintour. 'Nuff said.