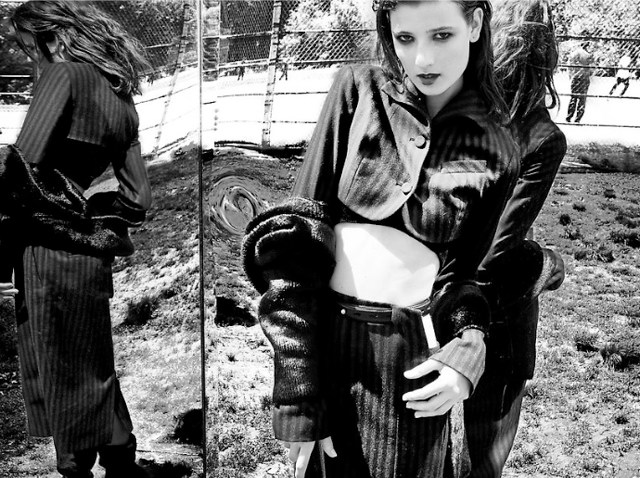 Turkish-born photographer Emir Eralp always thought he'd wind up in the movie business. "All of my favorite directors had a very strong visual aesthetic, like Jean-Luc Godard, Takeshi Kitano, Stanley Kubrick, Krzysztof Kieslowski, Lars Von Trier and Wong Kar-Wai," he explains. "A lot of them had either started out as photographers, or they composed their narrative through images rather than dialogue. So I guess I was very interested in photography -- but just as far as it related to movies."
After trying his hand at directing in Chicago, a move to New York City gave new opportunities to assist on fashion shoots. "I had been assisting a lot and shooting a little bit for a few years, but still didn't see the point of 'fashion' photography," he says. "It all seemed so self-important, too glossy, clean and perfect."
But a glorious shoot from Self-Service Magazine shot by masters Inez van Lamsweerde and Vinoodh Matadin soon convinced Eralp of his medium's narrative potential. "It was an epic photoshoot -- over 60 pages. It was quirky, funny, self-deprecating, low-fi but extremely stylish. All the self-referential and modernist storytelling aspects of my favorite directors like Godard and Von Trier had been transferred to the glossy pages of this magazine."
Since then, Eralp has gone on to develop his signature "accidental" style, focusing on on-set mishaps rather than producing contrived, conventionally pretty pictures.
"I like visual jokes," explains Eralp. "I like to shoot the 'mistakes' between poses; those moments of unguarded honesty that appear between the controlled moments that a model is giving me. When I'm selecting my pictures from a shoot -- especially in editorial work, where there is a lot of creative freedom -- I always ask myself the question: 'Does this image seem posed or constructed?' If the answer is yes, then I keep on looking for an image that seems accidental."