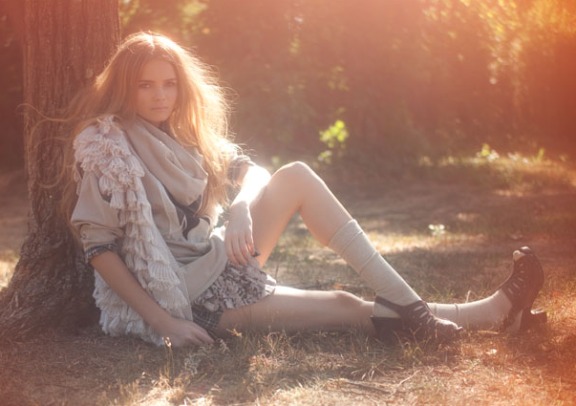 Vancouver-born photographer Candace Meyer was working part-time as a flight attendant when she first became interested in photography. "I would take photos of my fellow flight attendants on layovers in Europe, Iceland, Hawaii or wherever," says Meyer, whose nostalgic style often yields images that seem to be captured from an especially pleasant dream.
Recently relocated to a rural Canadian farm, Candace is committed to putting herself in unusual situations for the benefit of her art. "If I can ever help it when I'm shooting in Vancouver, I try to make the farm the set," explains Meyer. "And then I try to work my cat and horse into half the shots."
Indeed, there is an undeniable sense of purity and sun-soaked optimism in Meyer's photos that lends itself to farm life. While she herself describes the mood in the images as "pretty, feminine ... [and] more often than not, back lit," we might add descriptors like coy, retro and Kodachrome, since everything Meyer touches seems to be cast in a warm golden haze.
Though her subjects tend to be winsome pretty young things with mussed hair and porcelain skin, Meyer's broader scope is not nearly so narrow. In fact, the subject she's most eager to shoot is her friend's nutty pup named Vizsla, who Meyer claims is "the craziest dog" she's ever met. "We keep discussing the video we are going to do of her spinning endlessly in circles," Meyer laughs. "There just never seems to be time!"